National Bank Financial Raises SilverCrest Metals (SIL) Price Target to C$4.75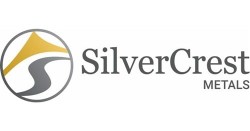 SilverCrest Metals (CVE:SIL) had its target price hoisted by National Bank Financial from C$4.00 to C$4.75 in a research note issued to investors on Friday. National Bank Financial currently has an outperform rating on the stock.
Several other research firms have also commented on SIL. Canaccord Genuity set a C$4.00 target price on SilverCrest Metals and gave the stock a speculative buy rating in a report on Thursday, June 21st. Eight Capital increased their price target on SilverCrest Metals from C$3.50 to C$4.30 in a research report on Monday, June 18th. Finally, Roth Capital reiterated a buy rating on shares of SilverCrest Metals in a research report on Thursday, July 12th. One equities research analyst has rated the stock with a hold rating and four have issued a buy rating to the company. SilverCrest Metals presently has a consensus rating of Buy and a consensus price target of C$4.35.
SilverCrest Metals stock opened at C$3.23 on Friday. SilverCrest Metals has a 52 week low of C$1.05 and a 52 week high of C$3.58.
SilverCrest Metals (CVE:SIL) last posted its earnings results on Thursday, August 2nd. The company reported C($0.02) EPS for the quarter, missing the consensus estimate of C($0.01) by C($0.01).
In other SilverCrest Metals news, Director Pierre Beaudoin purchased 20,000 shares of the stock in a transaction on Wednesday, August 15th. The shares were bought at an average price of C$2.69 per share, for a total transaction of C$53,800.00.
About SilverCrest Metals
SilverCrest Metals Inc engages in the acquisition, exploration, and development of precious metal properties. It primarily explores for silver and gold properties. The company's principal property is the Las Chispas project that consists of 27 concessions totaling approximately 1,389 hectares located in Sonora, Mexico.
Read More: Hedge Funds – Risk or Reward?

Receive News & Ratings for SilverCrest Metals Daily - Enter your email address below to receive a concise daily summary of the latest news and analysts' ratings for SilverCrest Metals and related companies with MarketBeat.com's FREE daily email newsletter.