MYnd Analytics Inc (MYND) Director John Pappajohn Purchases 10,000 Shares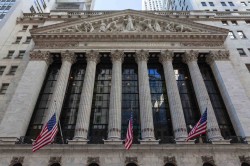 MYnd Analytics Inc (NASDAQ:MYND) Director John Pappajohn purchased 10,000 shares of the firm's stock in a transaction on Friday, January 5th. The shares were acquired at an average cost of $3.44 per share, for a total transaction of $34,400.00. The purchase was disclosed in a document filed with the Securities & Exchange Commission, which is available through this hyperlink.
MYnd Analytics Inc (NASDAQ MYND) opened at $3.20 on Thursday. The company has a market cap of $13.65, a P/E ratio of -1.26 and a beta of 1.15. MYnd Analytics Inc has a one year low of $2.80 and a one year high of $9.00.
Separately, Maxim Group set a $18.00 price target on shares of MYnd Analytics and gave the stock a "buy" rating in a research note on Saturday, November 25th.
WARNING: This story was first posted by Watch List News and is the sole property of of Watch List News. If you are viewing this story on another site, it was illegally copied and reposted in violation of U.S. and international copyright laws. The correct version of this story can be viewed at https://www.watchlistnews.com/mynd-analytics-inc-mynd-director-john-pappajohn-purchases-10000-shares/1802787.html.
About MYnd Analytics
MYnd Analytics, Inc, formerly CNS Response, Inc, is a predictive analytics company. The Company has developed a decision support tool to help physicians reduce trial and error treatment in mental health, and provide personalized care to patients. The Company provides objective clinical decision support to mental healthcare providers for the personalized treatment of behavioral disorders, including depression, anxiety, bipolar disorder, post-traumatic stress disorder (PTSD) and other non-psychotic disorders.
Receive News & Ratings for MYnd Analytics Daily - Enter your email address below to receive a concise daily summary of the latest news and analysts' ratings for MYnd Analytics and related companies with MarketBeat.com's FREE daily email newsletter.