Milestone Scientific (MLSS) Stock Price Up 19.4%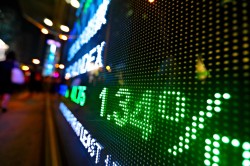 Milestone Scientific Inc. (NYSEAMERICAN:MLSS) shares rose 19.4% during trading on Monday . The stock traded as high as $0.43 and last traded at $0.43. Approximately 967,473 shares were traded during trading, an increase of 391% from the average daily volume of 196,846 shares. The stock had previously closed at $0.36.
In other Milestone Scientific news, CEO Leonard Osser acquired 285,000 shares of the stock in a transaction dated Wednesday, February 6th. The stock was acquired at an average cost of $0.35 per share, with a total value of $99,750.00. Following the transaction, the chief executive officer now owns 3,624,056 shares in the company, valued at approximately $1,268,419.60. The transaction was disclosed in a filing with the SEC, which is available through the SEC website.
COPYRIGHT VIOLATION WARNING: This news story was first posted by Watch List News and is the property of of Watch List News. If you are accessing this news story on another publication, it was illegally copied and republished in violation of United States & international copyright & trademark legislation. The legal version of this news story can be viewed at https://www.watchlistnews.com/milestone-scientific-mlss-stock-price-up-19-4/2900346.html.
About Milestone Scientific (NYSEAMERICAN:MLSS)
Milestone Scientific, Inc develops computer-controlled anesthetic delivery devices for the medical and dental markets in the United States and internationally. The company operates through dental and medical segments. Its products include CompuDent System used to control the flow rate of the anesthesia during the injection that allows virtually painless injections for various dental procedures, including routine fillings, implants, root canals, and crowns; and CompuFlo, a computer-controlled drug delivery system for the painless delivery of drugs, anesthetics, and other medicaments, as well as for the aspiration of bodily fluids or previously injected substances.
Further Reading: Commodities
Receive News & Ratings for Milestone Scientific Daily - Enter your email address below to receive a concise daily summary of the latest news and analysts' ratings for Milestone Scientific and related companies with MarketBeat.com's FREE daily email newsletter.