Mid Penn Bancorp (MPB) Set to Announce Quarterly Earnings on Monday
Mid Penn Bancorp (NASDAQ:MPB) will issue its Q3 2017 quarterly earnings data on Monday, October 23rd.
Shares of Mid Penn Bancorp (NASDAQ MPB) opened at 29.00 on Friday. Mid Penn Bancorp has a 52-week low of $18.10 and a 52-week high of $30.45. The stock has a market capitalization of $122.90 million, a price-to-earnings ratio of 14.76 and a beta of 0.44. The company has a 50 day moving average of $29.11 and a 200 day moving average of $27.56.
WARNING: This report was originally reported by Watch List News and is the property of of Watch List News. If you are reading this report on another publication, it was illegally stolen and republished in violation of U.S. & international copyright legislation. The original version of this report can be read at https://www.watchlistnews.com/mid-penn-bancorp-mpb-set-to-announce-quarterly-earnings-on-monday/1646948.html.
Mid Penn Bancorp Company Profile
Mid Penn Bancorp, Inc (Mid Penn) is the bank holding company for Mid Penn Bank (the Bank). The Bank engages in a full-service commercial banking and trust business, providing a range of financial services, including mortgage and home equity loans, secured and unsecured commercial and consumer loans, lines of credit, community development loans, loans to non-profit entities and local government loans, and various types of time and demand deposits, including checking accounts, savings accounts, clubs, money market deposit accounts, certificates of deposit and individual retirement accounts (IRAs).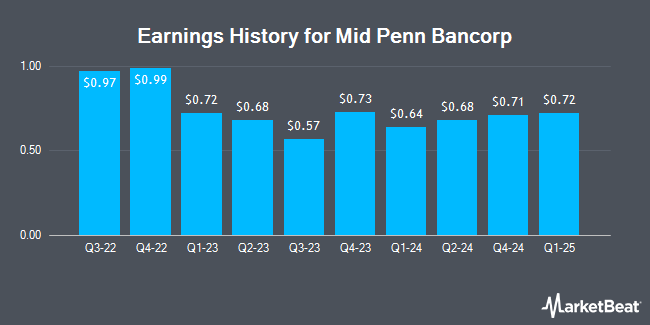 Receive News & Ratings for Mid Penn Bancorp Daily - Enter your email address below to receive a concise daily summary of the latest news and analysts' ratings for Mid Penn Bancorp and related companies with Analyst Ratings Network's FREE daily email newsletter.