Megalith Financial Acquisition Plans $150 Million IPO for August 22nd (MFACU)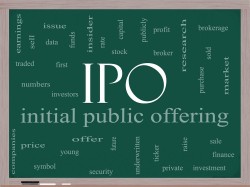 Megalith Financial Acquisition (MFACU) expects to raise $150 million in an initial public offering on Wednesday, August 22nd, IPO Scoop reports. The company will be issuing 15,000,000 shares at $10.00 per share.
Megalith Financial Acquisition has a market cap of $187.5 million.
Chardan acted as the underwriter for the IPO.
Megalith Financial Acquisition provided the following description of their company for its IPO: " We are a newly organized blank check company formed as a Delaware corporation for the purpose of effecting a merger, capital stock exchange, asset acquisition, stock purchase, reorganization or similar business combination with one or more businesses, which we refer to throughout this prospectus as our initial business combination. We intend to employ a pro-active acquisition strategy focused on identifying potential business combination targets within both the fintech and financial services industries that are fundamentally sound, but where we believe we can be a catalyst to accelerating growth. Our acquisition strategy will seek to capitalize on the significant financial services, financial technology, banking, M&A, operational expertise, and contacts of both our management team and our board. ".
Megalith Financial Acquisition was founded in 2018 and has 0 employees. The company is located at 60 E. 42nd St, Suite 3110, New York, NY 10017, US and can be reached via phone at (212) 235-0430.
Receive News & Ratings for Megalith Financial Acquisition Daily - Enter your email address below to receive a concise daily summary of the latest news and analysts' ratings for Megalith Financial Acquisition and related companies with MarketBeat.com's FREE daily email newsletter.