Macquarie Lowers Open Text Corp (OTEX) Price Target to C$40.00
Open Text Corp (TSE:OTEX) (NASDAQ:OTEX) had its price objective decreased by Macquarie from C$43.00 to C$40.00 in a report issued on Thursday morning.
Open Text (TSE OTEX) opened at C$42.26 on Thursday. Open Text has a 52-week low of C$38.65 and a 52-week high of C$48.28.
The business also recently announced a quarterly dividend, which will be paid on Wednesday, December 20th. Investors of record on Friday, December 1st will be issued a $0.17 dividend. The ex-dividend date is Thursday, November 30th. This is a positive change from Open Text's previous quarterly dividend of $0.13. This represents a $0.68 dividend on an annualized basis and a yield of 1.61%. Open Text's dividend payout ratio (DPR) is 67.67%.
COPYRIGHT VIOLATION WARNING: "Macquarie Lowers Open Text Corp (OTEX) Price Target to C$40.00" was originally posted by Watch List News and is owned by of Watch List News. If you are accessing this news story on another website, it was illegally copied and republished in violation of US and international trademark and copyright legislation. The legal version of this news story can be viewed at https://www.watchlistnews.com/macquarie-lowers-open-text-corp-otex-price-target-to-c40-00/1728103.html.
Open Text Company Profile
Open Text Corporation provides a platform and suite of software products and services that assist organizations in finding, utilizing, and sharing business information from any device. The Company designs, develops, markets and sells Enterprise Information Management (EIM) software and solutions. Its EIM offerings include Enterprise Content Management (ECM), Business Process Management (BPM), Customer Experience Management (CEM), Business Network, Discovery and Analytics.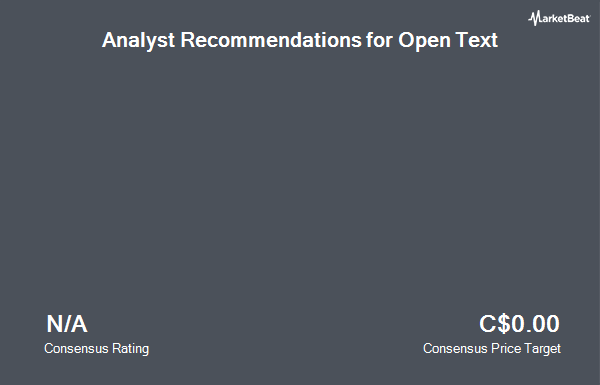 Receive News & Ratings for Open Text Corp Daily - Enter your email address below to receive a concise daily summary of the latest news and analysts' ratings for Open Text Corp and related companies with Analyst Ratings Network's FREE daily email newsletter.