Macquarie Boosts Telecom plus PLC (TEP) Price Target to GBX 1,435
Telecom plus PLC (LON:TEP) had its price target upped by Macquarie from GBX 1,380 ($17.82) to GBX 1,435 ($18.53) in a report released on Friday. The brokerage currently has an outperform rating on the stock.
Several other research firms also recently commented on TEP. Peel Hunt downgraded Telecom plus PLC to an add rating and boosted their target price for the stock from GBX 1,300 ($16.79) to GBX 1,360 ($17.56) in a report on Tuesday, June 13th. J P Morgan Chase & Co dropped their target price on Telecom plus PLC from GBX 1,360 ($17.56) to GBX 1,350 ($17.44) and set a neutral rating on the stock in a report on Wednesday, June 14th. Finally, FinnCap boosted their target price on Telecom plus PLC from GBX 1,360 ($17.56) to GBX 1,390 ($17.95) and gave the stock a buy rating in a report on Tuesday, June 13th. Three analysts have rated the stock with a hold rating and two have issued a buy rating to the stock. Telecom plus PLC has an average rating of Hold and a consensus price target of GBX 1,307 ($16.88).
Telecom plus PLC (LON:TEP) traded up 0.93% during mid-day trading on Friday, reaching GBX 1081.00. 22,092 shares of the company's stock were exchanged. Telecom plus PLC has a one year low of GBX 1,035.00 and a one year high of GBX 1,342.00. The stock's market cap is GBX 866.69 million. The stock has a 50-day moving average of GBX 1,120.70 and a 200-day moving average of GBX 1,191.03.
COPYRIGHT VIOLATION NOTICE: This piece was originally reported by Watch List News and is the property of of Watch List News. If you are reading this piece on another site, it was stolen and republished in violation of U.S. and international copyright & trademark laws. The original version of this piece can be read at https://www.watchlistnews.com/macquarie-boosts-telecom-plus-plc-tep-price-target-to-gbx-1435/1555029.html.
In other Telecom plus PLC news, insider Andrew Lindsay sold 25,226 shares of the business's stock in a transaction on Monday, July 3rd. The stock was sold at an average price of GBX 1,165 ($15.05), for a total value of £293,882.90 ($379,546.56).
About Telecom plus PLC
Telecom Plus PLC is engaged in providing landline telephony (calls and line rental), broadband, mobile, gas, electricity and CashBack card services. The Company's segments include Customer Acquisition and Customer Management. The Customer Acquisition segment includes the sale of marketing materials, and sale of equipment, such as mobile phone handsets and wireless Internet routers.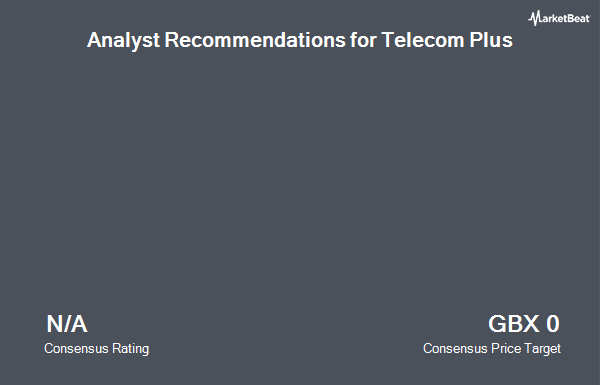 Receive News & Ratings for Telecom plus PLC Daily - Enter your email address below to receive a concise daily summary of the latest news and analysts' ratings for Telecom plus PLC and related companies with Analyst Ratings Network's FREE daily email newsletter.