LivaNova PLC (LIVN) Issues Quarterly Earnings Results
LivaNova PLC (NASDAQ:LIVN) posted its quarterly earnings results on Thursday. The company reported $0.93 earnings per share for the quarter, topping the consensus estimate of $0.76 by $0.17, Bloomberg Earnings reports. The business had revenue of $309.70 million during the quarter, compared to the consensus estimate of $301.22 million. LivaNova PLC had a net margin of 4.63% and a return on equity of 9.33%. The firm's revenue for the quarter was up 4.9% on a year-over-year basis. During the same period in the previous year, the firm posted $0.78 earnings per share. LivaNova PLC updated its FY17 guidance to $3.30-3.45 EPS.
Several analysts have weighed in on LIVN shares. ValuEngine raised shares of LivaNova PLC from a "hold" rating to a "buy" rating in a research note on Thursday. WBB Securities downgraded shares of LivaNova PLC from a "hold" rating to a "sell" rating and set a $50.00 price target for the company. in a research note on Tuesday, August 15th. BidaskClub downgraded shares of LivaNova PLC from a "strong-buy" rating to a "buy" rating in a research note on Monday, July 24th. Piper Jaffray Companies reissued an "overweight" rating and issued a $75.00 price target on shares of LivaNova PLC in a research note on Tuesday, September 12th. Finally, Needham & Company LLC started coverage on shares of LivaNova PLC in a research note on Wednesday, August 23rd. They issued a "hold" rating for the company. One equities research analyst has rated the stock with a sell rating, three have given a hold rating and five have given a buy rating to the company's stock. The stock currently has a consensus rating of "Hold" and an average target price of $72.50.
In related news, Director Daniel Jeffrey Moore sold 1,000 shares of LivaNova PLC stock in a transaction dated Monday, October 16th. The shares were sold at an average price of $74.58, for a total transaction of $74,580.00. The transaction was disclosed in a legal filing with the Securities & Exchange Commission, which can be accessed through this link. Over the last ninety days, insiders have sold 3,000 shares of company stock valued at $203,890. 0.28% of the stock is owned by corporate insiders.
TRADEMARK VIOLATION WARNING: This news story was first posted by Watch List News and is the property of of Watch List News. If you are viewing this news story on another site, it was copied illegally and reposted in violation of international copyright & trademark law. The correct version of this news story can be read at https://www.watchlistnews.com/livanova-plc-livn-issues-quarterly-earnings-results/1675909.html.
About LivaNova PLC
LivaNova PLC is a medical device company focused on the development and delivery of therapeutic solutions. The Company's segments include Cardiac Surgery, Cardiac Rhythm Management, Neuromodulation and Other. The Cardiac Surgery segment is engaged in the development, production and sale of cardiovascular surgery products.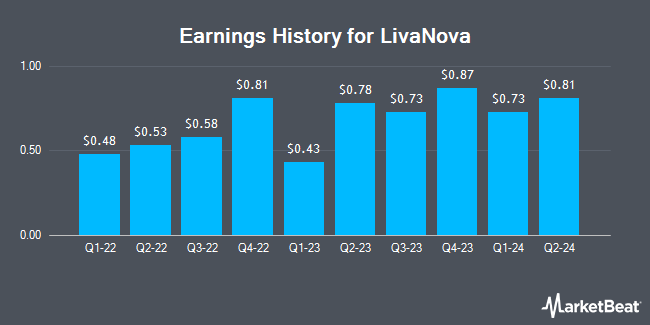 Receive News & Ratings for LivaNova PLC Daily - Enter your email address below to receive a concise daily summary of the latest news and analysts' ratings for LivaNova PLC and related companies with Analyst Ratings Network's FREE daily email newsletter.