LIQUEFIED NAT G/S (OTCMKTS:LNGLY) Stock Rating Upgraded by Zacks Investment Research
June 14th, 2019 -
Comments Off

on LIQUEFIED NAT G/S (OTCMKTS:LNGLY) Stock Rating Upgraded by Zacks Investment Research
-
Filed Under
- by
Mark Dietrich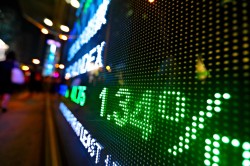 LIQUEFIED NAT G/S (OTCMKTS:LNGLY) was upgraded by Zacks Investment Research from a "hold" rating to a "buy" rating in a research report issued to clients and investors on Friday, Zacks.com reports. The brokerage currently has a $0.75 target price on the stock. Zacks Investment Research's price target indicates a potential upside of 0.67% from the stock's previous close.
According to Zacks, "Liquefied Natural Gas Limited develops and operates small and medium scale liquefied natural gas projects primarily in Australia. It operates primarily in Perth, Australia; Lake Charles, Louisiana and Halifax, Nova Scotia. Liquefied Natural Gas Limited is based in Houston, Texas. "
Separately, Gabelli began coverage on shares of LIQUEFIED NAT G/S in a report on Monday, May 13th. They issued a "buy" rating for the company.
Shares of
LIQUEFIED NAT G/S stock
opened at $0.75 on Friday. LIQUEFIED NAT G/S has a fifty-two week low of $0.69 and a fifty-two week high of $2.63.
About LIQUEFIED NAT G/S
Liquefied Natural Gas Limited, together with its subsidiaries, engages in the identification and progression of liquefied natural gas (LNG) development projects to facilitate the production and sale of LNG. It operates through LNG Infrastructure, and Technology and Licensing segments. The company's projects include the Magnolia LNG project located in Lake Charles, Louisiana, the United States; and the Bear Head LNG project situated in Point Tupper, Richmond County, Nova Scotia, Canada.
See Also: What is a good rate of return for a mutual fund?
Get a free copy of the Zacks research report on LIQUEFIED NAT G/S (LNGLY)
For more information about research offerings from Zacks Investment Research, visit Zacks.com
Receive News & Ratings for LIQUEFIED NAT G/S Daily - Enter your email address below to receive a concise daily summary of the latest news and analysts' ratings for LIQUEFIED NAT G/S and related companies with MarketBeat.com's FREE daily email newsletter.