Leucrotta Exploration Inc (LXE) PT Set at C$2.25 by BMO Capital Markets
Leucrotta Exploration Inc (CVE:LXE) received a C$2.25 price objective from research analysts at BMO Capital Markets in a research note issued to investors on Wednesday. The brokerage currently has a "market perform" rating on the oil and natural gas company's stock. BMO Capital Markets' price objective indicates a potential upside of 22.28% from the company's current price.
Separately, Raymond James Financial, Inc. cut their target price on shares of Leucrotta Exploration from C$3.00 to C$2.90 and set an "outperform" rating for the company in a research note on Friday, June 2nd. One research analyst has rated the stock with a hold rating and five have assigned a buy rating to the stock. The stock currently has a consensus rating of "Buy" and a consensus price target of C$2.79.
Leucrotta Exploration (CVE:LXE) last announced its quarterly earnings data on Tuesday, May 30th. The oil and natural gas company reported ($0.01) earnings per share for the quarter, meeting the Thomson Reuters' consensus estimate of ($0.01). Leucrotta Exploration had a negative return on equity of 1.57% and a negative net margin of 19.03%. The company had revenue of $4.88 million during the quarter, compared to analysts' expectations of $4.56 million.
ILLEGAL ACTIVITY NOTICE: This report was first posted by Watch List News and is owned by of Watch List News. If you are accessing this report on another website, it was stolen and reposted in violation of U.S. and international trademark & copyright legislation. The legal version of this report can be accessed at https://www.watchlistnews.com/leucrotta-exploration-inc-lxe-pt-set-at-c2-25-by-bmo-capital-markets/1534982.html.
Leucrotta Exploration Company Profile
Leucrotta Exploration Inc is an oil and natural gas company. The Company is engaged in the acquisition, development, exploration and production of oil and natural gas reserves in northeastern British Columbia, Canada. The Company's primary areas of focus are in the Dawson-Sunrise area of northeast British Columbia.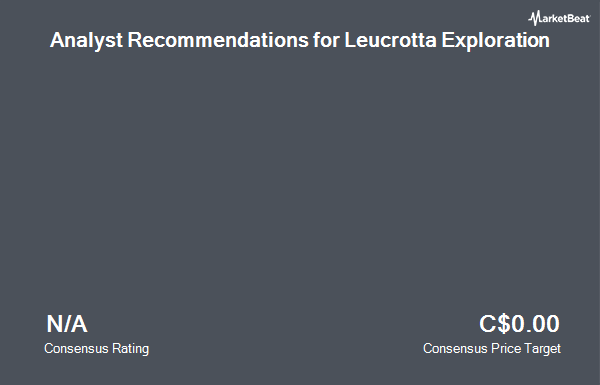 Receive News & Ratings for Leucrotta Exploration Inc Daily - Enter your email address below to receive a concise daily summary of the latest news and analysts' ratings for Leucrotta Exploration Inc and related companies with Analyst Ratings Network's FREE daily email newsletter.