Kohl's (KSS) Updates FY19 Earnings Guidance
Kohl's (NYSE:KSS) updated its FY19 earnings guidance on Thursday. The company provided earnings per share guidance of 4.95-5.45 for the period, compared to the Thomson Reuters consensus earnings per share estimate of $4.78. The company issued revenue guidance of $18.9-$19.29 billion, compared to the consensus revenue estimate of $19.07 billion.
Several research firms recently commented on KSS. Robert W. Baird reissued a buy rating and set a $61.00 price objective on shares of Kohl's in a research note on Tuesday, January 9th. Telsey Advisory Group reissued an outperform rating and set a $55.00 price objective (up previously from $50.00) on shares of Kohl's in a research note on Tuesday, January 9th. Cowen set a $66.00 price objective on shares of Kohl's and gave the stock a hold rating in a research note on Friday. ValuEngine raised shares of Kohl's from a buy rating to a strong-buy rating in a research note on Saturday, February 17th. Finally, Jefferies Group reissued a buy rating and set a $100.00 price objective on shares of Kohl's in a research note on Friday, January 19th. Five investment analysts have rated the stock with a sell rating, eleven have given a hold rating, nine have issued a buy rating and one has assigned a strong buy rating to the company's stock. The stock has an average rating of Hold and a consensus price target of $58.23.
Kohl's (KSS) opened at $66.50 on Friday. The company has a current ratio of 2.01, a quick ratio of 0.30 and a debt-to-equity ratio of 0.81. Kohl's has a twelve month low of $35.16 and a twelve month high of $69.48. The firm has a market cap of $10,542.30, a P/E ratio of 12.94, a PEG ratio of 2.01 and a beta of 1.27.
Kohl's (NYSE:KSS) last released its quarterly earnings data on Thursday, March 1st. The company reported $1.87 earnings per share for the quarter, beating the consensus estimate of $1.77 by $0.10. Kohl's had a net margin of 4.50% and a return on equity of 13.73%. The firm had revenue of $6.78 billion during the quarter, compared to analysts' expectations of $6.74 billion. During the same period in the previous year, the company earned $1.44 earnings per share. The firm's quarterly revenue was up 9.2% on a year-over-year basis. analysts anticipate that Kohl's will post 4.67 EPS for the current fiscal year.
The business also recently disclosed a quarterly dividend, which will be paid on Wednesday, March 28th. Stockholders of record on Wednesday, March 14th will be issued a dividend of $0.61 per share. This represents a $2.44 annualized dividend and a dividend yield of 3.67%. This is a boost from Kohl's's previous quarterly dividend of $0.55. The ex-dividend date of this dividend is Tuesday, March 13th. Kohl's's payout ratio is presently 42.80%.
In other news, Director Stephanie A. Streeter sold 4,173 shares of the business's stock in a transaction that occurred on Friday, December 22nd. The shares were sold at an average price of $53.85, for a total transaction of $224,716.05. Following the completion of the transaction, the director now directly owns 21,960 shares of the company's stock, valued at $1,182,546. The transaction was disclosed in a filing with the Securities & Exchange Commission, which can be accessed through the SEC website. 1.20% of the stock is owned by insiders.
TRADEMARK VIOLATION WARNING: This article was originally published by Watch List News and is the property of of Watch List News. If you are viewing this article on another publication, it was illegally copied and reposted in violation of United States and international copyright & trademark laws. The original version of this article can be read at https://www.watchlistnews.com/kohls-kss-updates-fy19-earnings-guidance/1904474.html.
Kohl's Company Profile
Kohl's Corporation (Kohl's) is an operator of department stores. The Company operates approximately 1,154 Kohl's department stores, a Website (www.Kohls.com), approximately 12 FILA outlets, and approximately three Off-Aisle clearance centers. The Company's stores and Website sell moderately-priced private label and national brand apparel, footwear, accessories, beauty and home products.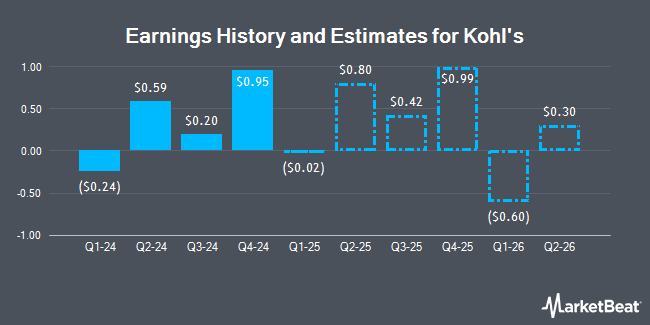 Receive News & Ratings for Kohl's Daily - Enter your email address below to receive a concise daily summary of the latest news and analysts' ratings for Kohl's and related companies with MarketBeat.com's FREE daily email newsletter.