Kodiak Sciences Inc. Plans $126 Million IPO for October 4th (KOD)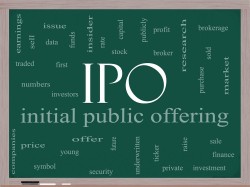 Kodiak Sciences Inc. (KOD) plans to raise $126 million in an initial public offering (IPO) on Thursday, October 4th, IPO Scoop reports. The company will be issuing 9,000,000 shares at a price of $13.00-$15.00 per share.
The company has a market-cap of $495.1 million.
Morgan Stanley and BofA Merrill Lynch acted as the underwriters for the IPO and Barclays and Chardan were co-managers.
Kodiak Sciences Inc. provided the following description of their company for its IPO: "We are a clinical stage biopharmaceutical company specializing in novel therapeutics to treat chronic, high-prevalence retinal diseases. Our most advanced product candidate is KSI-301, a biologic therapy built with our antibody biopolymer conjugate platform, or ABC Platform, which is designed to maintain potent and effective drug levels in ocular tissues. We believe that KSI-301, if approved, has the potential to become an important anti-VEGF therapy in wet age-related macular degeneration, or wet AMD, and diabetic retinopathy, or DR. KSI-301 and our ABC Platform were developed at Kodiak, and we own worldwide rights to those assets, including composition of matter patent protection for KSI-301. We have applied our ABC Platform to develop additional product candidates beyond KSI-301, including KSI-501, our bispecific anti-IL-6/VEGF bioconjugate. We intend to progress these and other product candidates to address high-prevalence ophthalmic diseases. ".
Kodiak Sciences Inc. was founded in 2009 and has 28 employees. The company is located at 2631 Hanover Street, Palo Alto, CA 94304, US and can be reached via phone at (650) 281-0850 or on the web at http://www.kodiak.com.
Receive News & Ratings for Kodiak Sciences Inc. Daily - Enter your email address below to receive a concise daily summary of the latest news and analysts' ratings for Kodiak Sciences Inc. and related companies with MarketBeat.com's FREE daily email newsletter.