Knight Therapeutics Inc (GUD) Stock Rating Reaffirmed by National Bank Financial
Knight Therapeutics Inc (TSE:GUD)'s stock had its "outperform market weight" rating reiterated by investment analysts at National Bank Financial in a research note issued to investors on Thursday.
Other analysts have also issued research reports about the company. Scotiabank increased their price objective on Knight Therapeutics from C$10.50 to C$11.00 and gave the company an "outperform" rating in a research note on Friday. TD Securities reissued a "buy" rating and set a C$12.50 price objective on shares of Knight Therapeutics in a research note on Tuesday, March 14th. Mackie lowered Knight Therapeutics from a "buy" rating to a "hold" rating and dropped their price objective for the company from C$12.00 to C$10.75 in a research note on Wednesday, January 4th. Finally, CIBC dropped their price objective on Knight Therapeutics from C$13.00 to C$9.80 in a research note on Friday, January 13th. Two equities research analysts have rated the stock with a hold rating and three have given a buy rating to the company. The company presently has an average rating of "Buy" and an average price target of C$11.16.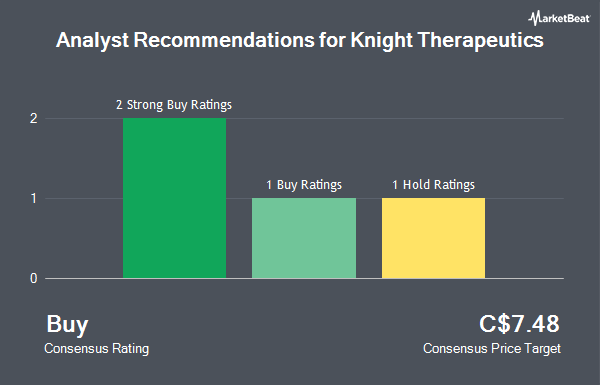 Knight Therapeutics (TSE:GUD) traded down 0.59% during mid-day trading on Thursday, reaching $10.14. 47,564 shares of the company traded hands. The stock has a market capitalization of $1.35 billion and a price-to-earnings ratio of 71.41. The company's 50-day moving average is $10.57 and its 200-day moving average is $9.90. Knight Therapeutics has a 12-month low of $7.20 and a 12-month high of $11.03.
Your IP Address:
About Knight Therapeutics
Knight Therapeutics Inc is a Canada-based pharmaceutical company. The Company is engaged in developing, acquiring, in-licensing, out-licensing, marketing and distributing pharmaceutical products, consumer health products and medical devices in Canada and select international markets. It finances other life sciences companies in Canada and internationally.
Receive News & Ratings for Knight Therapeutics Inc Daily - Enter your email address below to receive a concise daily summary of the latest news and analysts' ratings for Knight Therapeutics Inc and related companies with Analyst Ratings Network's FREE daily email newsletter.