Kalvista Pharmaceuticals (KALV) Posts Quarterly Earnings Results, Misses Estimates By $0.14 EPS
Kalvista Pharmaceuticals (NASDAQ:KALV) posted its earnings results on Friday. The specialty pharmaceutical company reported ($0.47) earnings per share (EPS) for the quarter, missing the consensus estimate of ($0.33) by ($0.14), Bloomberg Earnings reports. Kalvista Pharmaceuticals had a negative net margin of 188.29% and a negative return on equity of 55.65%. The firm had revenue of $3.72 million during the quarter, compared to analyst estimates of $4.11 million.
KALV opened at $17.17 on Friday. Kalvista Pharmaceuticals has a 1 year low of $6.65 and a 1 year high of $18.90.
In other news, Director Albert Cha bought 1,058,824 shares of the firm's stock in a transaction that occurred on Monday, September 10th. The stock was purchased at an average cost of $17.00 per share, for a total transaction of $18,000,008.00. The transaction was disclosed in a legal filing with the SEC, which is available through the SEC website. Insiders own 49.10% of the company's stock.
Several research firms recently issued reports on KALV.
Zacks Investment Research
upgraded shares of Kalvista Pharmaceuticals from a "hold" rating to a "buy" rating and set a $19.00 target price for the company in a research note on Wednesday.
ValuEngine
upgraded shares of Kalvista Pharmaceuticals from a "hold" rating to a "buy" rating in a research note on Thursday, August 2nd. Finally, Roth Capital began coverage on shares of Kalvista Pharmaceuticals in a research note on Tuesday, July 10th. They issued a "buy" rating and a $20.00 target price for the company. Four analysts have rated the stock with a buy rating, Kalvista Pharmaceuticals currently has a consensus rating of "Buy" and a consensus target price of $22.00.
Kalvista Pharmaceuticals Company Profile
KalVista Pharmaceuticals, Inc, a clinical stage pharmaceutical company, discovers, develops, and commercializes small molecule protease inhibitors. The company's product portfolio comprises small molecule plasma kallikrein inhibitors targeting hereditary angioedema (HAE) and diabetic macular edema (DME); and oral plasma kallikrein inhibitors.
Further Reading: Google Finance Portfolio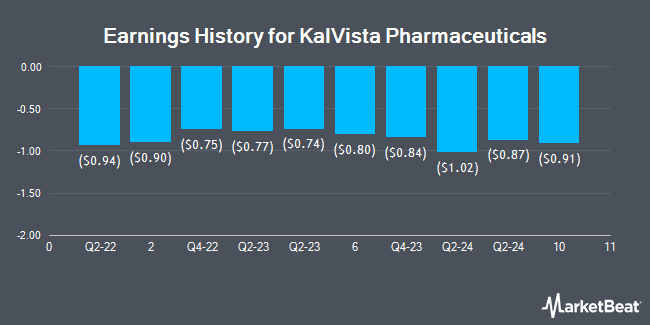 Receive News & Ratings for Kalvista Pharmaceuticals Daily - Enter your email address below to receive a concise daily summary of the latest news and analysts' ratings for Kalvista Pharmaceuticals and related companies with MarketBeat.com's FREE daily email newsletter.