Kadant Inc (KAI) to Issue $0.21 Quarterly Dividend
Kadant Inc (NYSE:KAI) declared a quarterly dividend on Thursday, November 16th, Wall Street Journal reports. Shareholders of record on Thursday, January 11th will be paid a dividend of 0.21 per share by the industrial products company on Thursday, February 8th. This represents a $0.84 annualized dividend and a yield of 0.83%. The ex-dividend date is Wednesday, January 10th.
Kadant has increased its dividend payment by an average of 25.4% per year over the last three years and has increased its dividend every year for the last 3 years. Kadant has a dividend payout ratio of 19.1% indicating that its dividend is sufficiently covered by earnings. Research analysts expect Kadant to earn $4.86 per share next year, which means the company should continue to be able to cover its $0.84 annual dividend with an expected future payout ratio of 17.3%.
Kadant (NYSE:KAI) opened at $101.80 on Friday. The firm has a market cap of $1,099.63, a price-to-earnings ratio of 24.85 and a beta of 1.43. The company has a current ratio of 2.35, a quick ratio of 1.65 and a debt-to-equity ratio of 0.84. Kadant has a fifty-two week low of $56.15 and a fifty-two week high of $114.00.
Kadant (NYSE:KAI) last posted its quarterly earnings results on Monday, October 30th. The industrial products company reported $1.49 EPS for the quarter, beating the Thomson Reuters' consensus estimate of $1.14 by $0.35. Kadant had a net margin of 8.17% and a return on equity of 14.84%. The business had revenue of $152.79 million during the quarter, compared to analyst estimates of $141.33 million. During the same period in the previous year, the business posted $0.81 EPS. The company's quarterly revenue was up 44.8% on a year-over-year basis. sell-side analysts predict that Kadant will post 4.39 earnings per share for the current year.
WARNING: This report was first posted by Watch List News and is the property of of Watch List News. If you are reading this report on another website, it was stolen and reposted in violation of United States and international copyright & trademark law. The original version of this report can be viewed at https://www.watchlistnews.com/kadant-inc-kai-to-issue-0-21-quarterly-dividend/1709078.html.
In related news, Director William P. Tully sold 1,250 shares of Kadant stock in a transaction dated Monday, September 18th. The shares were sold at an average price of $89.60, for a total value of $112,000.00. Following the sale, the director now directly owns 5,250 shares in the company, valued at approximately $470,400. The sale was disclosed in a legal filing with the SEC, which is available at the SEC website. Also, CEO Jonathan W. Painter sold 20,000 shares of Kadant stock in a transaction dated Wednesday, November 1st. The shares were sold at an average price of $103.82, for a total transaction of $2,076,400.00. Following the completion of the sale, the chief executive officer now owns 76,082 shares in the company, valued at $7,898,833.24. The disclosure for this sale can be found here. Insiders sold a total of 27,687 shares of company stock valued at $2,887,844 over the last ninety days. Company insiders own 5.59% of the company's stock.
KAI has been the subject of several research reports. Zacks Investment Research lowered shares of Kadant from a "strong-buy" rating to a "hold" rating in a report on Wednesday, October 4th. ValuEngine lowered shares of Kadant from a "buy" rating to a "hold" rating in a report on Monday, October 2nd. Sidoti lowered shares of Kadant from a "buy" rating to a "neutral" rating and set a $102.00 price target for the company. in a report on Tuesday, October 3rd. Finally, BidaskClub lowered shares of Kadant from a "buy" rating to a "hold" rating in a report on Monday, July 24th. Three investment analysts have rated the stock with a hold rating, two have given a buy rating and one has given a strong buy rating to the stock. The stock presently has an average rating of "Buy" and a consensus target price of $104.67.
Kadant Company Profile
Kadant Inc is a supplier of equipment and components used in process industries. In addition, the Company manufactures granules made from papermaking by-products. Its segments include Papermaking Systems and Wood Processing Systems. The Company has a customer base, which includes paper and oriented strand board (OSB) manufacturers.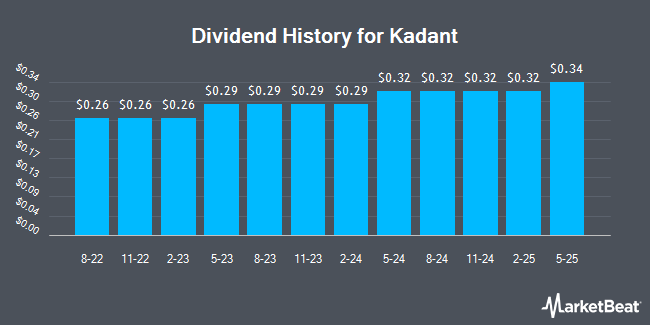 Receive News & Ratings for Kadant Inc Daily - Enter your email address below to receive a concise daily summary of the latest news and analysts' ratings for Kadant Inc and related companies with Analyst Ratings Network's FREE daily email newsletter.