John Wiley & Sons, Inc. (JW.A) To Go Ex-Dividend on October 6th
John Wiley & Sons, Inc. (NYSE:JW.A) announced a quarterly dividend on Thursday, September 28th, NASDAQ reports. Stockholders of record on Tuesday, October 10th will be given a dividend of 0.32 per share on Wednesday, October 25th. This represents a $1.28 dividend on an annualized basis and a dividend yield of Infinity. The ex-dividend date of this dividend is Friday, October 6th.
John Wiley & Sons (NYSE:JW.A) last posted its quarterly earnings results on Thursday, September 7th. The company reported $0.59 EPS for the quarter, missing the consensus estimate of $0.62 by ($0.03). The business had revenue of $411.40 million during the quarter, compared to analyst estimates of $406.41 million. John Wiley & Sons had a net margin of 5.32% and a return on equity of 17.78%. The firm's quarterly revenue was up 1.8% compared to the same quarter last year. During the same period in the prior year, the business earned $0.52 earnings per share.
COPYRIGHT VIOLATION NOTICE: This story was first posted by Watch List News and is the property of of Watch List News. If you are accessing this story on another site, it was illegally stolen and reposted in violation of U.S. & international copyright & trademark law. The legal version of this story can be viewed at https://www.watchlistnews.com/john-wiley-sons-inc-jw-a-to-go-ex-dividend-on-october-6th/1609772.html.
JW.A has been the subject of several recent analyst reports. Stifel Nicolaus reissued a "hold" rating and issued a $54.00 price target on shares of John Wiley & Sons in a report on Wednesday, July 19th. TheStreet cut John Wiley & Sons from a "b-" rating to a "c" rating in a report on Thursday, September 7th. Finally, Zacks Investment Research cut John Wiley & Sons from a "buy" rating to a "hold" rating in a report on Tuesday, September 12th.
John Wiley & Sons Company Profile
John Wiley & Sons, Inc provides knowledge and knowledge-enabled services in the areas of research, professional practice and education. The Company operates through three segments: Research, Professional Development and Education. Through the Research segment, the Company provides digital and print scientific, technical, medical and scholarly journals, reference works, books, database services and advertising.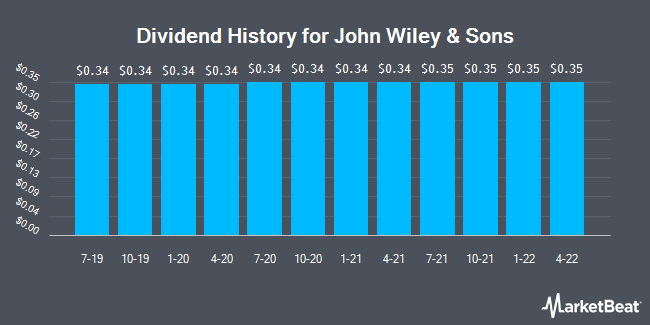 Receive News & Ratings for John Wiley & Sons Inc. Daily - Enter your email address below to receive a concise daily summary of the latest news and analysts' ratings for John Wiley & Sons Inc. and related companies with Analyst Ratings Network's FREE daily email newsletter.