JMP Group LLC (JMP) Position Decreased by Goldman Sachs Group Inc.
Goldman Sachs Group Inc. decreased its stake in shares of JMP Group LLC (NYSE:JMP) by 9.0% during the first quarter, according to its most recent filing with the Securities and Exchange Commission. The firm owned 32,203 shares of the financial services provider's stock after selling 3,177 shares during the period. Goldman Sachs Group Inc. owned approximately 0.15% of JMP Group worth $195,000 as of its most recent SEC filing.
Separately, Renaissance Technologies LLC increased its position in shares of JMP Group by 1.2% in the first quarter. Renaissance Technologies LLC now owns 57,060 shares of the financial services provider's stock valued at $346,000 after buying an additional 685 shares during the last quarter. Institutional investors and hedge funds own 13.01% of the company's stock.
Shares of JMP Group LLC (NYSE:JMP) traded up 0.166% during trading on Wednesday, hitting $5.439. 3,683 shares of the company traded hands. The firm has a 50 day moving average price of $5.40 and a 200-day moving average price of $5.76. JMP Group LLC has a one year low of $5.20 and a one year high of $7.70. The stock's market cap is $117.14 million.
JMP Group (NYSE:JMP) last issued its quarterly earnings results on Tuesday, August 1st. The financial services provider reported $0.03 earnings per share for the quarter, topping the consensus estimate of ($0.01) by $0.04. The company had revenue of $23.14 million during the quarter, compared to analysts' expectations of $25.20 million. JMP Group had a negative net margin of 10.35% and a positive return on equity of 1.52%. Analysts predict that JMP Group LLC will post $0.28 EPS for the current year.
The firm also recently declared a monthly dividend, which will be paid on Friday, September 15th. Stockholders of record on Thursday, August 31st will be paid a dividend of $0.03 per share. The ex-dividend date is Tuesday, August 29th. This represents a $0.36 annualized dividend and a dividend yield of 6.63%. JMP Group's dividend payout ratio is currently -66.67%.
ILLEGAL ACTIVITY WARNING: "JMP Group LLC (JMP) Position Decreased by Goldman Sachs Group Inc." was first posted by Watch List News and is owned by of Watch List News. If you are reading this story on another publication, it was copied illegally and reposted in violation of international trademark & copyright law. The legal version of this story can be accessed at https://www.watchlistnews.com/jmp-group-llc-jmp-position-decreased-by-goldman-sachs-group-inc/1532282.html.
Separately, Zacks Investment Research raised shares of JMP Group from a "sell" rating to a "hold" rating in a research note on Thursday, June 29th.
In other news, CFO Raymond Jackson sold 50,000 shares of the firm's stock in a transaction that occurred on Wednesday, July 5th. The shares were sold at an average price of $7.50, for a total transaction of $375,000.00. Following the completion of the transaction, the chief financial officer now directly owns 146,664 shares of the company's stock, valued at approximately $1,099,980. The sale was disclosed in a document filed with the Securities & Exchange Commission, which is available through this hyperlink. Also, Director Glenn H. Tongue purchased 10,000 shares of the firm's stock in a transaction dated Thursday, August 3rd. The shares were acquired at an average cost of $5.41 per share, with a total value of $54,100.00. Following the completion of the purchase, the director now directly owns 155,652 shares in the company, valued at $842,077.32. The disclosure for this purchase can be found here. 52.11% of the stock is owned by company insiders.
About JMP Group
JMP Group, Inc is a full-service investment banking and asset management firm. The Company operates in five segments: Broker-Dealer, Asset Management, Corporate Credit, Investment Income and Corporate Costs. The Broker-Dealer segment includes a range of services, such as underwriting and acting as a placement agent for public and private capital markets raising transactions and financial advisory services in mergers and acquisitions, restructuring and other strategic transactions.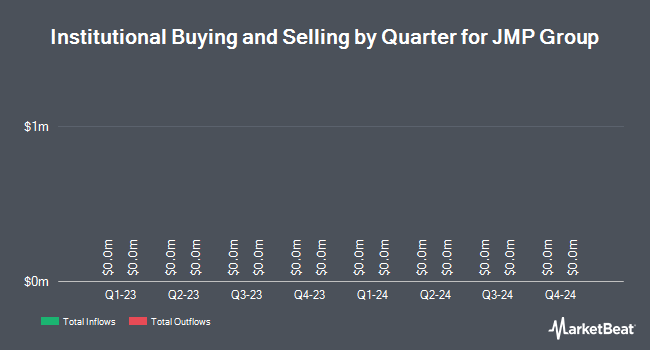 Receive News & Ratings for JMP Group LLC Daily - Enter your email address below to receive a concise daily summary of the latest news and analysts' ratings for JMP Group LLC and related companies with Analyst Ratings Network's FREE daily email newsletter.