Jefferies Group Reiterates Hold Rating for Pepsico (PEP)
Jefferies Group reiterated their hold rating on shares of Pepsico (NASDAQ:PEP) in a research report report published on Thursday. The brokerage currently has a $113.00 price objective on the stock.
Several other equities research analysts also recently issued reports on PEP. Stifel Nicolaus reissued a hold rating and issued a $120.00 price objective on shares of Pepsico in a research note on Friday, December 22nd. Zacks Investment Research downgraded Pepsico from a hold rating to a sell rating in a research note on Thursday. Wells Fargo & Co increased their price objective on Pepsico from $110.00 to $115.00 and gave the stock a market perform rating in a research note on Thursday. Susquehanna Bancshares reissued a buy rating and issued a $135.00 price objective on shares of Pepsico in a research note on Monday, October 2nd. Finally, Credit Suisse Group reissued a hold rating and issued a $122.00 price objective (down from $124.00) on shares of Pepsico in a research note on Thursday, October 5th. One research analyst has rated the stock with a sell rating, eight have issued a hold rating, eight have given a buy rating and one has issued a strong buy rating to the stock. The stock has an average rating of Buy and an average price target of $122.82.
Shares of Pepsico (PEP) traded up $0.34 during trading on Thursday, reaching $118.67. The company had a trading volume of 2,710,000 shares, compared to its average volume of 3,490,000. The stock has a market cap of $168,770.00, a P/E ratio of 24.52, a P/E/G ratio of 3.11 and a beta of 0.68. The company has a debt-to-equity ratio of 2.32, a quick ratio of 1.21 and a current ratio of 1.35. Pepsico has a 1 year low of $101.06 and a 1 year high of $120.57.
The company also recently declared a quarterly dividend, which will be paid on Monday, January 8th. Stockholders of record on Friday, December 1st will be paid a dividend of $0.805 per share. This represents a $3.22 dividend on an annualized basis and a dividend yield of 2.71%. The ex-dividend date of this dividend is Thursday, November 30th. Pepsico's dividend payout ratio (DPR) is presently 66.53%.
In other news, insider Ramon Laguarta sold 21,449 shares of the firm's stock in a transaction dated Tuesday, October 10th. The stock was sold at an average price of $110.51, for a total transaction of $2,370,328.99. The transaction was disclosed in a filing with the Securities & Exchange Commission, which is available through the SEC website. 0.26% of the stock is owned by company insiders.
An institutional investor recently raised its position in Pepsico stock. Prudential Financial Inc. increased its stake in shares of Pepsico, Inc. (NASDAQ:PEP) by 26.1% during the third quarter, according to the company in its most recent filing with the SEC. The fund owned 4,354,014 shares of the company's stock after acquiring an additional 899,911 shares during the period. Pepsico accounts for about 0.7% of Prudential Financial Inc.'s holdings, making the stock its 19th largest position. Prudential Financial Inc. owned about 0.31% of Pepsico worth $485,168,000 as of its most recent filing with the SEC. Hedge funds and other institutional investors own 70.20% of the company's stock.
COPYRIGHT VIOLATION WARNING: This news story was originally published by Watch List News and is owned by of Watch List News. If you are accessing this news story on another publication, it was illegally stolen and reposted in violation of United States and international copyright & trademark law. The correct version of this news story can be viewed at https://www.watchlistnews.com/jefferies-group-reiterates-hold-rating-for-pepsico-pep/1798135.html.
Pepsico Company Profile
PepsiCo, Inc is a global food and beverage company. The Company's portfolio of brands includes Frito-Lay, Gatorade, Pepsi-Cola, Quaker and Tropicana. The Company operates through six segments: Frito-Lay North America (FLNA), Quaker Foods North America (QFNA), North America Beverages (NAB), Latin America, Europe Sub-Saharan Africa (ESSA), and Asia, Middle East and North Africa (AMENA).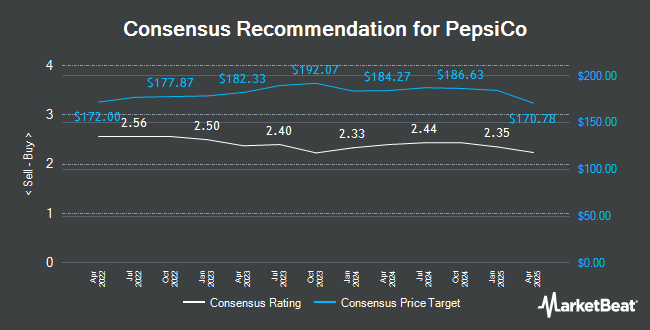 Receive News & Ratings for Pepsico Daily - Enter your email address below to receive a concise daily summary of the latest news and analysts' ratings for Pepsico and related companies with Analyst Ratings Network's FREE daily email newsletter.