JD.com, Inc. (JD) to Release Earnings on Monday
JD.com, Inc. (NASDAQ:JD) is scheduled to be releasing its earnings data on Monday, November 13th. Analysts expect JD.com to post earnings of $0.10 per share for the quarter.
JD.com (NASDAQ:JD) last issued its quarterly earnings results on Monday, August 14th. The information services provider reported $0.02 earnings per share (EPS) for the quarter, meeting the Zacks' consensus estimate of $0.02. The firm had revenue of $93.20 billion during the quarter, compared to the consensus estimate of $89.35 billion. JD.com had a negative return on equity of 1.80% and a negative net margin of 0.95%. The company's revenue for the quarter was up 43.6% on a year-over-year basis. During the same quarter last year, the company posted $0.29 EPS. On average, analysts expect JD.com to post $0 EPS for the current fiscal year and $0 EPS for the next fiscal year.
Shares of JD.com, Inc. (NASDAQ:JD) opened at $39.96 on Friday. JD.com, Inc. has a 12-month low of $23.38 and a 12-month high of $48.99. The company has a debt-to-equity ratio of 0.35, a quick ratio of 0.91 and a current ratio of 1.20.
WARNING: This story was posted by Watch List News and is the sole property of of Watch List News. If you are viewing this story on another domain, it was stolen and reposted in violation of United States and international trademark and copyright laws. The original version of this story can be accessed at https://www.watchlistnews.com/jd-com-inc-jd-to-release-earnings-on-monday/1696926.html.
Several equities analysts have recently issued reports on JD shares. Vetr raised JD.com from a "hold" rating to a "buy" rating and set a $45.83 target price on the stock in a research note on Friday, September 22nd. KeyCorp set a $49.00 target price on JD.com and gave the stock a "buy" rating in a report on Thursday, October 19th. Zacks Investment Research downgraded JD.com from a "hold" rating to a "sell" rating in a report on Wednesday, October 11th. HSBC Holdings plc reaffirmed a "buy" rating and set a $49.00 price target on shares of JD.com in a report on Tuesday, August 15th. Finally, BidaskClub cut JD.com from a "hold" rating to a "sell" rating in a research report on Thursday, September 28th. One investment analyst has rated the stock with a sell rating, three have issued a hold rating and eighteen have issued a buy rating to the company's stock. The company currently has a consensus rating of "Buy" and an average price target of $44.23.
About JD.com
JD.com, Inc is an online direct sales company. The Company engages in the sale of electronics and home appliance products and general merchandise products (including audio, video products and books) sourced from manufacturers, distributors and publishers in China on the Internet through its Website, www.jd.com.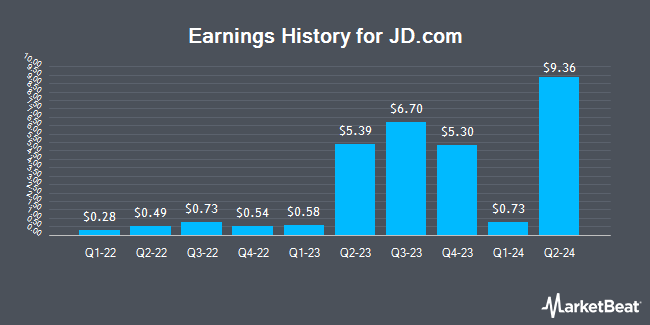 Receive News & Ratings for JD.com Inc. Daily - Enter your email address below to receive a concise daily summary of the latest news and analysts' ratings for JD.com Inc. and related companies with Analyst Ratings Network's FREE daily email newsletter.