James R. Mcnab Acquires 200,000 Shares of Titan Pharmaceuticals, Inc. (TTNP) Stock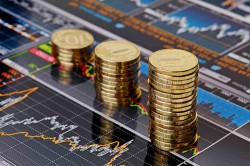 Titan Pharmaceuticals, Inc. (NASDAQ:TTNP) Director James R. Mcnab acquired 200,000 shares of Titan Pharmaceuticals stock in a transaction that occurred on Friday, September 21st. The shares were purchased at an average cost of $0.25 per share, with a total value of $50,000.00. Following the transaction, the director now owns 300,000 shares of the company's stock, valued at approximately $75,000. The transaction was disclosed in a document filed with the Securities & Exchange Commission, which is accessible through the SEC website.
Shares of NASDAQ:TTNP traded down $0.01 on Tuesday, reaching $0.22. The company had a trading volume of 1,775,100 shares, compared to its average volume of 203,898. Titan Pharmaceuticals, Inc. has a twelve month low of $0.22 and a twelve month high of $2.85. The stock has a market capitalization of $4.59 million, a P/E ratio of -0.31 and a beta of 1.16. The company has a debt-to-equity ratio of -2.70, a current ratio of 1.76 and a quick ratio of 1.21.
Titan Pharmaceuticals (NASDAQ:TTNP) last announced its quarterly earnings results on Tuesday, August 14th. The specialty pharmaceutical company reported ($0.04) earnings per share for the quarter, topping analysts' consensus estimates of ($0.13) by $0.09. Titan Pharmaceuticals had a negative return on equity of 1,659.34% and a negative net margin of 295.69%. The company had revenue of $2.67 million during the quarter, compared to analysts' expectations of $0.07 million. research analysts expect that Titan Pharmaceuticals, Inc. will post -0.41 EPS for the current fiscal year.
Separately,
ValuEngine
raised Titan Pharmaceuticals from a "sell" rating to a "hold" rating in a research report on Saturday, June 2nd.
Titan Pharmaceuticals Company Profile
Titan Pharmaceuticals, Inc, a pharmaceutical company, develops proprietary therapeutics for the treatment of serious medical disorders. It develops products based on ProNeura, a proprietary long-term drug delivery platform that focuses primarily on treatments for chronic diseases. The company offers Probuphine, a product candidate for maintenance treatment of opioid dependence, which maintains a stable, around the clock blood level of the drug buprenorphine in patients for six months following a single treatment.
Featured Story: Leveraged Buyout (LBO) Explained
Receive News & Ratings for Titan Pharmaceuticals Daily - Enter your email address below to receive a concise daily summary of the latest news and analysts' ratings for Titan Pharmaceuticals and related companies with MarketBeat.com's FREE daily email newsletter.