James A. Gustke Sells 8,485 Shares of Ooma Inc (OOMA) Stock
Ooma Inc (NYSE:OOMA) VP James A. Gustke sold 8,485 shares of Ooma stock in a transaction dated Tuesday, December 12th. The shares were sold at an average price of $11.23, for a total value of $95,286.55. Following the sale, the vice president now directly owns 173,689 shares in the company, valued at $1,950,527.47. The sale was disclosed in a document filed with the Securities & Exchange Commission, which is available at this link.
Ooma Inc (OOMA) traded down $0.10 during trading on Thursday, hitting $11.45. The company had a trading volume of 99,100 shares, compared to its average volume of 139,867. Ooma Inc has a one year low of $7.30 and a one year high of $12.30.
Ooma (NYSE:OOMA) last posted its quarterly earnings data on Tuesday, November 28th. The technology company reported ($0.02) EPS for the quarter, topping the Zacks' consensus estimate of ($0.04) by $0.02. The company had revenue of $28.50 million for the quarter, compared to analyst estimates of $28.04 million. Ooma had a negative return on equity of 32.00% and a negative net margin of 11.65%. The firm's quarterly revenue was up 5.6% on a year-over-year basis. During the same period in the previous year, the firm earned ($0.02) earnings per share. analysts predict that Ooma Inc will post -0.69 EPS for the current year.
OOMA has been the topic of a number of recent analyst reports. Northland Securities set a $11.00 price objective on Ooma and gave the stock a "buy" rating in a research note on Friday, August 25th. B. Riley reaffirmed a "buy" rating and issued a $13.00 price objective on shares of Ooma in a research note on Friday, September 1st. Two analysts have rated the stock with a sell rating, two have issued a hold rating and two have issued a buy rating to the company. Ooma has an average rating of "Hold" and a consensus target price of $12.67.
Institutional investors have recently bought and sold shares of the stock. Wolverine Trading LLC bought a new stake in Ooma in the third quarter worth approximately $115,000. Rhumbline Advisers bought a new stake in Ooma in the second quarter worth approximately $128,000. New York State Common Retirement Fund bought a new stake in Ooma in the second quarter worth approximately $144,000. Menta Capital LLC increased its holdings in Ooma by 58.3% in the second quarter. Menta Capital LLC now owns 19,345 shares of the technology company's stock worth $155,000 after purchasing an additional 7,123 shares in the last quarter. Finally, Cubist Systematic Strategies LLC bought a new stake in Ooma in the second quarter worth approximately $186,000. 75.13% of the stock is currently owned by institutional investors.
WARNING: This piece of content was reported by Watch List News and is owned by of Watch List News. If you are reading this piece of content on another website, it was stolen and reposted in violation of United States and international copyright & trademark laws. The correct version of this piece of content can be read at https://www.watchlistnews.com/james-a-gustke-sells-8485-shares-of-ooma-inc-ooma-stock/1763732.html.
About Ooma
Ooma, Inc is a United States-based company, which offers Ooma, a communications platform for small businesses and consumers. Ooma serves as a communications hub, which offers cloud-based telephony, Internet security, home monitoring and other connected services. Ooma combines PureVoice high definition (HD) call quality features with mobile applications anytime, anywhere calling.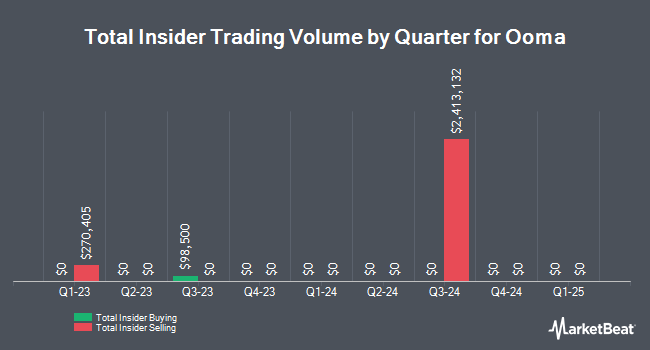 Receive News & Ratings for Ooma Daily - Enter your email address below to receive a concise daily summary of the latest news and analysts' ratings for Ooma and related companies with MarketBeat.com's FREE daily email newsletter.