ITT Inc. (NYSE:ITT) Stock Rating Lowered by Zacks Investment Research
Zacks Investment Research lowered shares of ITT Inc. (NYSE:ITT) from a buy rating to a hold rating in a research note issued to investors on Thursday.
According to Zacks, "ITT Inc. has a robust earnings surprise history, having beaten estimates thrice in the trailing four quarters. Also, the company's current year estimates have moved north over the past couple of months. The company's bottom line is expected to benefit from improved operating efficiency and successful cost containment actions. Further, ITT Inc.'s shares have outperformed the industry average over year to date. ITT Inc. has achieved operational excellence through its Lean Six Sigma program. However, on the negative side, softness in industrial, oil & gas markets and aerospace and defense business is expected to affect client spending adversely, thus restricting the company's growth to a great extent. Also, sluggish aerospace and defense business might add to the company's woes. Uncertainty about the new U.S. Administration's policies also poses a huge risk to the company's operations."
Other analysts have also issued research reports about the company. BidaskClub upgraded ITT from a hold rating to a buy rating in a report on Thursday, July 6th. ValuEngine upgraded ITT from a hold rating to a buy rating in a report on Thursday, July 6th. Stifel Nicolaus boosted their price target on ITT from $49.00 to $51.00 and gave the company a buy rating in a report on Tuesday, May 9th. Finally, Goldman Sachs Group, Inc. (The) lowered ITT from a buy rating to a neutral rating and lowered their price target for the company from $46.00 to $43.00 in a report on Tuesday, June 6th. One research analyst has rated the stock with a sell rating, two have issued a hold rating and nine have assigned a buy rating to the company's stock. The company currently has an average rating of Buy and a consensus target price of $46.57.
ITT (ITT) traded up 0.208% on Thursday, hitting $41.045. The stock had a trading volume of 185,056 shares. The firm has a market capitalization of $3.64 billion, a price-to-earnings ratio of 18.915 and a beta of 1.47. ITT has a 1-year low of $31.08 and a 1-year high of $44.00. The stock's 50-day moving average is $40.46 and its 200 day moving average is $40.62.
ITT (NYSE:ITT) last announced its quarterly earnings results on Monday, May 8th. The conglomerate reported $0.64 earnings per share (EPS) for the quarter, beating analysts' consensus estimates of $0.60 by $0.04. The firm had revenue of $625.80 million during the quarter, compared to analyst estimates of $607.08 million. ITT had a return on equity of 14.65% and a net margin of 8.04%. ITT's quarterly revenue was up 2.7% on a year-over-year basis. During the same quarter in the previous year, the business earned $0.59 earnings per share. On average, equities research analysts predict that ITT will post $2.43 earnings per share for the current fiscal year.
COPYRIGHT VIOLATION NOTICE: This piece was published by Watch List News and is the sole property of of Watch List News. If you are viewing this piece on another domain, it was illegally copied and reposted in violation of United States & international copyright law. The legal version of this piece can be accessed at https://www.watchlistnews.com/itt-inc-nyseitt-stock-rating-lowered-by-zacks-investment-research/1464308.html.
The business also recently announced a quarterly dividend, which was paid on Monday, July 3rd. Shareholders of record on Monday, June 12th were issued a dividend of $0.128 per share. The ex-dividend date of this dividend was Thursday, June 8th. This represents a $0.51 dividend on an annualized basis and a yield of 1.25%. ITT's dividend payout ratio is currently 23.50%.
A number of hedge funds have recently bought and sold shares of ITT. Timber Hill LLC bought a new stake in ITT during the first quarter worth $201,000. Coastline Trust Co bought a new stake in ITT during the first quarter worth $205,000. Raymond James Financial Services Advisors Inc. bought a new stake in ITT during the first quarter worth $214,000. Stephens Inc. AR bought a new stake in ITT during the first quarter worth $222,000. Finally, World Asset Management Inc raised its stake in ITT by 0.3% in the first quarter. World Asset Management Inc now owns 5,487 shares of the conglomerate's stock worth $225,000 after buying an additional 19 shares in the last quarter. Institutional investors own 92.66% of the company's stock.
ITT Company Profile
ITT Corporation (ITT) is a diversified manufacturer of engineered critical components and technology solutions for industrial markets. The Company's product and service offerings are organized in four segments: Industrial Process, Motion Technologies, Interconnect Solutions and Control Technologies. Industrial Process manufactures engineered fluid process equipment, and is a provider of plant optimization, solutions and aftermarket services and parts.
Get a free copy of the Zacks research report on ITT (ITT)
For more information about research offerings from Zacks Investment Research, visit Zacks.com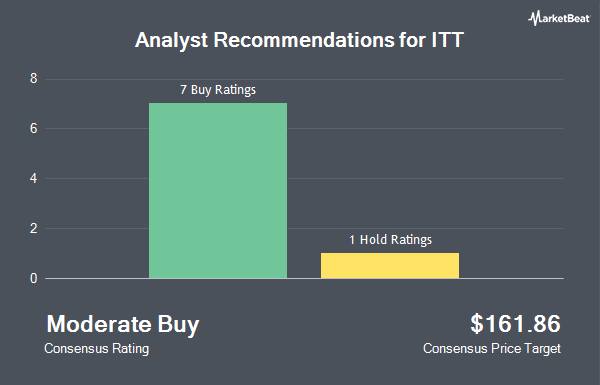 Receive News & Ratings for ITT Inc. Daily - Enter your email address below to receive a concise daily summary of the latest news and analysts' ratings for ITT Inc. and related companies with Analyst Ratings Network's FREE daily email newsletter.