Iqvia (IQV) Issues FY18 Earnings Guidance
Iqvia (NYSE:IQV) updated its FY18 earnings guidance on Monday. The company provided EPS guidance of $5.45-5.55 for the period, compared to the Thomson Reuters consensus EPS estimate of $5.50. The company issued revenue guidance of $10.3-10.35 billion, compared to the consensus revenue estimate of $10.37 billion.Iqvia also updated its FY 2018 guidance to $5.45-5.55 EPS.
A number of equities analysts have weighed in on the stock. Barclays reissued an overweight rating and issued a $130.00 price objective (up from $120.00) on shares of Iqvia in a research report on Wednesday, July 25th. Stifel Nicolaus upped their price objective on shares of Iqvia from $128.00 to $150.00 and gave the company a buy rating in a research report on Wednesday, July 25th. Raymond James raised shares of Iqvia from an outperform rating to a strong-buy rating in a research report on Tuesday, July 3rd. Mizuho set a $120.00 price objective on shares of Iqvia and gave the company a hold rating in a research report on Monday, August 6th. Finally, Wells Fargo & Co upped their target price on shares of Iqvia from $120.00 to $140.00 and gave the company an outperform rating in a research note on Monday, August 13th. Five analysts have rated the stock with a hold rating, fifteen have issued a buy rating and one has assigned a strong buy rating to the company. The company presently has a consensus rating of Buy and a consensus target price of $126.95.
Shares of Iqvia stock opened at $126.45 on Tuesday. The stock has a market capitalization of $25.71 billion, a PE ratio of 29.00, a P/E/G ratio of 1.82 and a beta of 0.70. The company has a current ratio of 1.13, a quick ratio of 1.13 and a debt-to-equity ratio of 1.40. Iqvia has a 1 year low of $91.57 and a 1 year high of $135.48.
Iqvia (NYSE:IQV) last issued its earnings results on Monday, October 22nd. The medical research company reported $1.42 earnings per share (EPS) for the quarter, beating analysts' consensus estimates of $1.39 by $0.03. The business had revenue of $2.59 billion for the quarter, compared to analyst estimates of $2.58 billion. Iqvia had a net margin of 12.68% and a return on equity of 13.51%. The business's revenue for the quarter was up 5.2% on a year-over-year basis. Sell-side analysts forecast that Iqvia will post 5.13 earnings per share for the current year.
In related news, Director Ronald A. Rittenmeyer sold 7,680 shares of the stock in a transaction dated Thursday, July 26th. The shares were sold at an average price of $122.41, for a total transaction of $940,108.80. The transaction was disclosed in a document filed with the SEC, which is available at the SEC website. Also, Director John G. Danhakl sold 370,470 shares of the stock in a transaction dated Wednesday, September 12th. The stock was sold at an average price of $124.83, for a total transaction of $46,245,770.10. The disclosure for this sale can be found here. In the last quarter, insiders have sold 978,777 shares of company stock worth $121,566,089. 6.00% of the stock is owned by company insiders.
Iqvia Company Profile
IQVIA Holdings Inc provides integrated information and technology-enabled healthcare services in the Americas, Europe, Africa, and the Asia-Pacific. It operates through three segments: Commercial Solutions, Research & Development Solutions, and Integrated Engagement Services. The Commercial Solutions segment offers a range of cloud-based applications and related implementation, real-world insights, and reference information services; and strategic and implementation consulting services, such as advanced analytics and commercial processes outsourcing services.
Recommended Story: How is a Moving Average Calculated?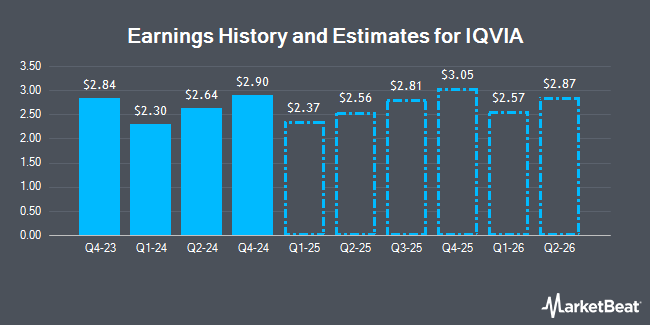 Receive News & Ratings for Iqvia Daily - Enter your email address below to receive a concise daily summary of the latest news and analysts' ratings for Iqvia and related companies with MarketBeat.com's FREE daily email newsletter.