Investec Lowers Standard Chartered (SCBFF) to Hold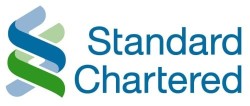 Standard Chartered (OTCMKTS:SCBFF) was downgraded by equities research analysts at Investec from a "buy" rating to a "hold" rating in a research note issued to investors on Tuesday.
Separately, Keefe, Bruyette & Woods raised Standard Chartered from an "underperform" rating to a "market perform" rating in a research report on Tuesday, September 11th.
Shares of OTCMKTS SCBFF opened at $7.56 on Tuesday. Standard Chartered has a fifty-two week low of $6.64 and a fifty-two week high of $12.10.
About Standard Chartered
Standard Chartered PLC provides various banking products and services in the Greater China and North Asia, ASEAN and South Asia, Africa and the Middle East, and Europe and America. The company operates in four segments: Corporate & Institutional Banking, Private Banking, Commercial Banking, and Retail Banking.
Featured Story: Hedge Funds – Risk or Reward?

Receive News & Ratings for Standard Chartered Daily - Enter your email address below to receive a concise daily summary of the latest news and analysts' ratings for Standard Chartered and related companies with MarketBeat.com's FREE daily email newsletter.