Intesa Sanpaolo (ISNPY) Upgraded to Sell at ValuEngine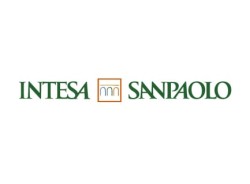 Intesa Sanpaolo (OTCMKTS:ISNPY) was upgraded by analysts at ValuEngine from a "strong sell" rating to a "sell" rating in a research report issued to clients and investors on Monday.
Separately, Zacks Investment Research downgraded shares of Intesa Sanpaolo from a "hold" rating to a "sell" rating in a research note on Wednesday, August 29th.
Shares of OTCMKTS ISNPY traded down $0.34 during midday trading on Monday, hitting $16.87. The stock had a trading volume of 285,824 shares, compared to its average volume of 298,240. The company has a market cap of $45.49 billion, a PE ratio of 5.66 and a beta of 1.03. Intesa Sanpaolo has a 52 week low of $14.74 and a 52 week high of $23.85. The company has a debt-to-equity ratio of 1.66, a quick ratio of 1.18 and a current ratio of 1.35.
Intesa Sanpaolo Company Profile
Intesa Sanpaolo S.p.A. provides various banking products and services. It operates through Banca dei Territori, Banking, Internat Subsidiary Banks, Private Banking, and Asset Management business units. The company offers lending and deposit products; corporate, investment banking, and public finance services; industrial credit, factoring, and leasing services; asset management solutions; life and non-life insurance products; and bancassurance and pension fund, and fiduciary services.
Featured Story: Stock Symbols Definition, Examples, Lookup
To view ValuEngine's full report, visit ValuEngine's official website.
Receive News & Ratings for Intesa Sanpaolo Daily - Enter your email address below to receive a concise daily summary of the latest news and analysts' ratings for Intesa Sanpaolo and related companies with MarketBeat.com's FREE daily email newsletter.