Lok'nStore Group Plc (LON:LOK – Get Rating) insider Charles Peal sold 1,250 shares of Lok'nStore Group stock in a transaction that occurred on Thursday, March 16th. The stock was sold at an average price of GBX 820 ($9.99), for a total value of £10,250 ($12,492.38).
Lok'nStore Group Price Performance
Shares of Lok'nStore Group stock opened at GBX 810 ($9.87) on Friday. The stock has a market cap of £243.49 million, a price-to-earnings ratio of 1,975.61 and a beta of 0.69. The company has a debt-to-equity ratio of 37.54, a quick ratio of 5.09 and a current ratio of 5.15. The stock has a 50 day moving average price of GBX 923.61 and a 200-day moving average price of GBX 912.98. Lok'nStore Group Plc has a one year low of GBX 674 ($8.21) and a one year high of GBX 1,090 ($13.28).
About Lok'nStore Group
Lok'nStore Group Plc engages in the development and operation of self-storage centers in the United Kingdom. It offers household storage services for furniture and belongings while moving property, decluttering, home improvements, redecorating, travelling overseas, and other life events. The company also operates business self-storage units and spaces with mini-warehousing, pallet storage, archives and documents, holding stocks, boxes, office spaces, and eBayers and online retailers; and provides insurance services.
Read More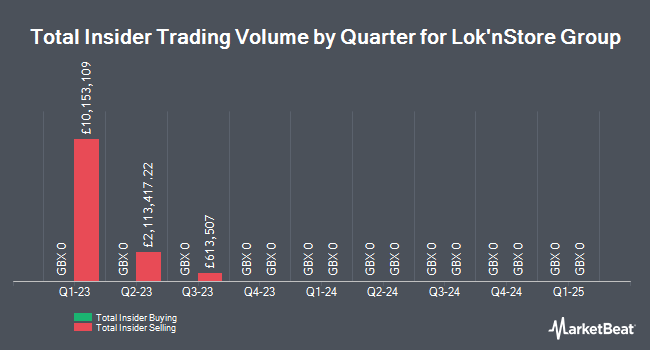 Receive News & Ratings for Lok'nStore Group Daily - Enter your email address below to receive a concise daily summary of the latest news and analysts' ratings for Lok'nStore Group and related companies with MarketBeat.com's FREE daily email newsletter.