Insider Selling: Enterprise Diversified Inc (OTCMKTS:SYTE) Major Shareholder Sells 3,530 Shares of Stock
September 7th, 2019 -
Comments Off

on Insider Selling: Enterprise Diversified Inc (OTCMKTS:SYTE) Major Shareholder Sells 3,530 Shares of Stock
-
Filed Under
- by
Kyle Jackson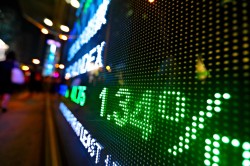 Enterprise Diversified Inc (OTCMKTS:SYTE) major shareholder Jeffrey Moore sold 3,530 shares of Enterprise Diversified stock in a transaction that occurred on Tuesday, September 3rd. The shares were sold at an average price of $4.64, for a total transaction of $16,379.20. Following the completion of the transaction, the insider now directly owns 251,783 shares in the company, valued at approximately $1,168,273.12. The transaction was disclosed in a document filed with the Securities & Exchange Commission, which can be accessed through the SEC website. Major shareholders that own more than 10% of a company's shares are required to disclose their sales and purchases with the SEC.
Jeffrey Moore also recently made the following trade(s):
On Sunday, July 28th, Jeffrey Moore sold 4,561 shares of Enterprise Diversified stock. The stock was sold at an average price of $5.29, for a total transaction of $24,127.69.
Shares of Enterprise Diversified stock remained flat at $$4.00 during midday trading on Friday. The business's 50-day simple moving average is $5.28 and its 200 day simple moving average is $6.46. Enterprise Diversified Inc has a fifty-two week low of $4.00 and a fifty-two week high of $15.25.
About Enterprise Diversified
Enterprise Diversified, Inc, an Internet service provider (ISP), provides consumer and business-grade Internet access, wholesale managed modem services for downstream ISPs, Web hosting, and various ancillary services in the United States and Canada. The company operates through five segments: Corporate, Internet Operations, HVAC Operations, Real Estate Operations, and Asset Management Operations.
Further Reading: What is Green Investing?
Receive News & Ratings for Enterprise Diversified Daily - Enter your email address below to receive a concise daily summary of the latest news and analysts' ratings for Enterprise Diversified and related companies with MarketBeat.com's FREE daily email newsletter.