Insider Buying: Conn's Inc (CONN) Director Buys $32,200.00 in Stock
Conn's Inc (NASDAQ:CONN) Director David Schofman purchased 1,000 shares of Conn's stock in a transaction on Monday, December 11th. The stock was bought at an average cost of $32.20 per share, for a total transaction of $32,200.00. Following the transaction, the director now directly owns 20,384 shares in the company, valued at $656,364.80. The transaction was disclosed in a document filed with the Securities & Exchange Commission, which is available at this link.
Conn's Inc (NASDAQ CONN) traded up $1.45 during trading hours on Friday, reaching $33.95. The company had a trading volume of 618,670 shares, compared to its average volume of 511,808. The stock has a market cap of $1,070.00, a P/E ratio of 77.16, a PEG ratio of 1.67 and a beta of 1.86. The company has a quick ratio of 3.04, a current ratio of 3.94 and a debt-to-equity ratio of 1.84. Conn's Inc has a 12-month low of $7.75 and a 12-month high of $37.80.
Conn's (NASDAQ:CONN) last posted its quarterly earnings data on Thursday, December 7th. The specialty retailer reported $0.18 earnings per share for the quarter, topping analysts' consensus estimates of $0.04 by $0.14. Conn's had a return on equity of 2.64% and a net margin of 0.21%. The company had revenue of $373.20 million during the quarter, compared to analysts' expectations of $372.40 million. During the same period last year, the firm earned ($0.08) EPS. The firm's revenue for the quarter was down 1.0% on a year-over-year basis. equities research analysts predict that Conn's Inc will post 0.88 EPS for the current fiscal year.
A number of equities research analysts have issued reports on the company. Oppenheimer reaffirmed a "buy" rating on shares of Conn's in a research report on Wednesday. Stephens increased their price objective on Conn's from $39.00 to $44.00 and gave the company an "overweight" rating in a report on Thursday. BidaskClub upgraded Conn's from a "hold" rating to a "buy" rating in a report on Thursday, December 7th. Zacks Investment Research upgraded Conn's from a "hold" rating to a "strong-buy" rating and set a $36.00 price objective on the stock in a report on Tuesday, December 12th. Finally, UBS upgraded Conn's from a "market perform" rating to an "outperform" rating in a report on Friday, September 29th. Two investment analysts have rated the stock with a hold rating, six have assigned a buy rating and one has issued a strong buy rating to the company's stock. The company currently has a consensus rating of "Buy" and an average price target of $37.50.
A number of institutional investors have recently bought and sold shares of the business. Luzich Partners LLC lifted its position in Conn's by 3.3% during the 3rd quarter. Luzich Partners LLC now owns 315,822 shares of the specialty retailer's stock worth $8,890,000 after acquiring an additional 10,000 shares during the period. Cornerstone Capital Management Holdings LLC. acquired a new stake in Conn's during the 3rd quarter worth approximately $287,000. Allianz Asset Management GmbH acquired a new stake in Conn's during the 3rd quarter worth approximately $224,000. KBC Group NV acquired a new stake in Conn's during the 3rd quarter worth approximately $761,000. Finally, Wells Fargo & Company MN lifted its holdings in shares of Conn's by 12.3% in the 3rd quarter. Wells Fargo & Company MN now owns 18,188 shares of the specialty retailer's stock valued at $512,000 after buying an additional 1,996 shares during the period. 71.94% of the stock is owned by institutional investors.
WARNING: This article was originally reported by Watch List News and is owned by of Watch List News. If you are accessing this article on another publication, it was illegally copied and republished in violation of US & international copyright & trademark law. The original version of this article can be viewed at https://www.watchlistnews.com/insider-buying-conns-inc-conn-director-buys-32200-00-in-stock/1770030.html.
About Conn's
Conn's, Inc is a specialty retailer that offers a selection of consumer goods and related services in addition to a credit solution for its core credit constrained consumers. The Company operates through two segments: retail and credit. The Retail segment includes product categories, such as furniture and mattress, including furniture and related accessories for the living room, dining room and bedroom; home appliance, including refrigerators, freezers, washers, dryers, dishwashers and ranges; Consumer electronics, including liquid-crystal-display (LED), organic LED (OLED), Ultra high definition (HD) and Internet-ready televisions, and home office, including computers, printers and accessories.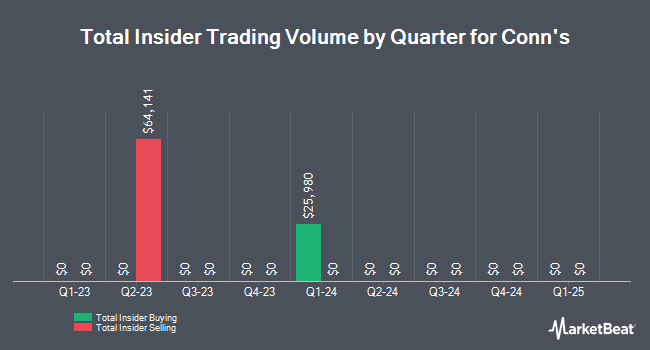 Receive News & Ratings for Conn's Daily - Enter your email address below to receive a concise daily summary of the latest news and analysts' ratings for Conn's and related companies with MarketBeat.com's FREE daily email newsletter.