Insider Buying: Century Bancorp, Inc. (NASDAQ:CNBKA) Major Shareholder Buys $19,137.58 in Stock
Century Bancorp, Inc. (NASDAQ:CNBKA) major shareholder James J. Filler acquired 301 shares of the firm's stock in a transaction dated Monday, July 10th. The shares were acquired at an average price of $63.58 per share, for a total transaction of $19,137.58. Following the acquisition, the insider now directly owns 568,643 shares of the company's stock, valued at $36,154,321.94. The transaction was disclosed in a document filed with the Securities & Exchange Commission, which is available through this link. Large shareholders that own 10% or more of a company's shares are required to disclose their sales and purchases with the SEC.
Shares of Century Bancorp, Inc. (CNBKA) remained flat at $66.95 on Monday. The company's stock had a trading volume of 2,630 shares. The firm's 50-day moving average price is $62.34 and its 200 day moving average price is $61.94. Century Bancorp, Inc. has a 52-week low of $43.31 and a 52-week high of $68.05. The firm has a market cap of $372.71 million, a P/E ratio of 13.69 and a beta of 0.69.
Century Bancorp (NASDAQ:CNBKA) last posted its quarterly earnings results on Tuesday, July 11th. The bank reported $1.47 EPS for the quarter. Century Bancorp had a net margin of 22.46% and a return on equity of 11.35%. The business had revenue of $26.40 million for the quarter. Analysts predict that Century Bancorp, Inc. will post $2.31 earnings per share for the current year.
The firm also recently disclosed a quarterly dividend, which will be paid on Tuesday, August 15th. Investors of record on Tuesday, August 1st will be issued a $0.12 dividend. This represents a $0.48 dividend on an annualized basis and a yield of 0.72%. The ex-dividend date of this dividend is Friday, July 28th. Century Bancorp's dividend payout ratio is presently 9.82%.
COPYRIGHT VIOLATION NOTICE: "Insider Buying: Century Bancorp, Inc. (NASDAQ:CNBKA) Major Shareholder Buys $19,137.58 in Stock" was first reported by Watch List News and is the property of of Watch List News. If you are reading this piece on another website, it was stolen and reposted in violation of U.S. & international copyright and trademark law. The correct version of this piece can be read at https://www.watchlistnews.com/insider-buying-century-bancorp-inc-nasdaqcnbka-major-shareholder-buys-19137-58-in-stock/1445292.html.
Separately, ValuEngine raised Century Bancorp from a "hold" rating to a "buy" rating in a research report on Friday, June 2nd.
Century Bancorp Company Profile
Century Bancorp, Inc is a state-chartered bank holding company. The Company has a banking subsidiary: Century Bank and Trust Company (the Bank). The Company offers a range of services to commercial enterprises, state and local Governments and agencies, non-profit organizations and individuals. It operates approximately 30 banking offices in 20 cities and towns in Massachusetts, ranging from Braintree in the south to Andover in the north.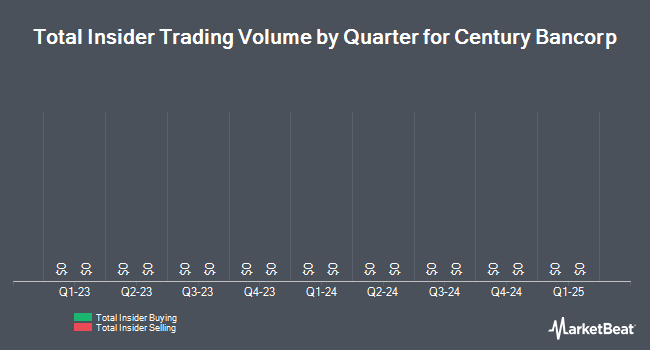 Receive News & Ratings for Century Bancorp Inc. Daily - Enter your email address below to receive a concise daily summary of the latest news and analysts' ratings for Century Bancorp Inc. and related companies with Analyst Ratings Network's FREE daily email newsletter.