Industrial Alliance Securities Reiterates Buy Rating for Surge Energy (SGY)
Industrial Alliance Securities reiterated their buy rating on shares of Surge Energy (TSE:SGY) in a research report released on Friday. They currently have a C$4.00 price target on the stock.
Other equities research analysts have also recently issued research reports about the company. CIBC boosted their price objective on Surge Energy from C$2.75 to C$3.00 in a research note on Friday, July 20th. Raymond James reiterated an outperform rating and issued a C$3.25 price objective on shares of Surge Energy in a research note on Monday, July 9th. Finally, TD Securities boosted their target price on Surge Energy from C$3.25 to C$3.50 and gave the company a buy rating in a report on Friday, September 7th. Two research analysts have rated the stock with a hold rating and five have given a buy rating to the company's stock. Surge Energy currently has an average rating of Buy and a consensus price target of C$3.31.
Shares of TSE SGY opened at C$2.56 on Friday. Surge Energy has a twelve month low of C$1.58 and a twelve month high of C$2.76.
Surge Energy (TSE:SGY) last issued its quarterly earnings data on Wednesday, August 8th. The company reported C$0.01 earnings per share for the quarter. Surge Energy had a negative return on equity of 4.16% and a negative net margin of 18.21%. The company had revenue of C$87.09 million during the quarter.
The business also recently announced a monthly dividend, which was paid on Monday, September 17th. Stockholders of record on Monday, September 17th were issued a $0.0083 dividend. The ex-dividend date was Thursday, August 30th. This represents a $0.10 dividend on an annualized basis and a dividend yield of 3.89%. This is a positive change from Surge Energy's previous monthly dividend of $0.01.
In related news, Director Paul Colborne bought 25,000 shares of the company's stock in a transaction dated Thursday, July 19th. The shares were acquired at an average price of C$2.47 per share, with a total value of C$61,750.00. Also, Director Keith Elliott Macdonald sold 17,805 shares of the business's stock in a transaction that occurred on Wednesday, August 15th. The shares were sold at an average price of C$2.12, for a total value of C$37,746.60. In the last three months, insiders bought 121,331 shares of company stock worth $286,892.
About Surge Energy
Surge Energy Inc engages in the exploration, development, and production of oil and gas properties in western Canada. The company holds interests in the Valhalla/Wembley property located to the northwest of Grand Prairie in northwestern Alberta; the Nipisi property located to the north of the town of Slave Lake, in northwestern Alberta; and the Nevis property located to the east of Red Deer, Alberta.
Further Reading: How Important is Technical Analysis of Stocks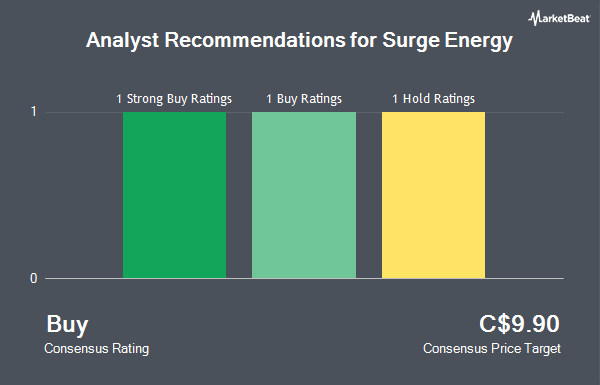 Receive News & Ratings for Surge Energy Daily - Enter your email address below to receive a concise daily summary of the latest news and analysts' ratings for Surge Energy and related companies with MarketBeat.com's FREE daily email newsletter.