ImmuCell Co. (ICCC) Releases Earnings Results
ImmuCell Co. (NASDAQ:ICCC) released its quarterly earnings data on Monday. The biotechnology company reported ($0.05) EPS for the quarter, Bloomberg Earnings reports. ImmuCell had a return on equity of 11.69% and a net margin of 16.49%.
Shares of ImmuCell (NASDAQ ICCC) traded up 1.80% during midday trading on Monday, hitting $7.70. The company had a trading volume of 5,403 shares. The company's 50 day moving average is $7.00 and its 200 day moving average is $6.06. ImmuCell has a one year low of $4.76 and a one year high of $8.24. The firm has a market cap of $37.33 million, a price-to-earnings ratio of 53.85 and a beta of 1.02.
In related news, insider Brian L. Pessin purchased 30,000 shares of ImmuCell stock in a transaction on Thursday, July 27th. The stock was bought at an average price of $5.25 per share, with a total value of $157,500.00. Following the completion of the transaction, the insider now directly owns 70,000 shares of the company's stock, valued at $367,500. The acquisition was disclosed in a filing with the SEC, which can be accessed through this link. 20.10% of the stock is owned by insiders.
COPYRIGHT VIOLATION WARNING: "ImmuCell Co. (ICCC) Releases Earnings Results" was published by Watch List News and is the sole property of of Watch List News. If you are accessing this news story on another site, it was copied illegally and republished in violation of United States & international copyright law. The original version of this news story can be viewed at https://www.watchlistnews.com/immucell-co-iccc-releases-earnings-results/1487893.html.
Separately, TheStreet upgraded ImmuCell from a "c" rating to a "b-" rating in a report on Monday, June 12th.
About ImmuCell
ImmuCell Corporation is an animal health company. The Company operates in the development, acquisition, manufacture and sale of products that improve the health and productivity of cows for the dairy and beef industries segment. The Company has developed products that provide immediate immunity to newborn dairy and beef cattle, and is developing product line extensions of its existing products that address mastitis.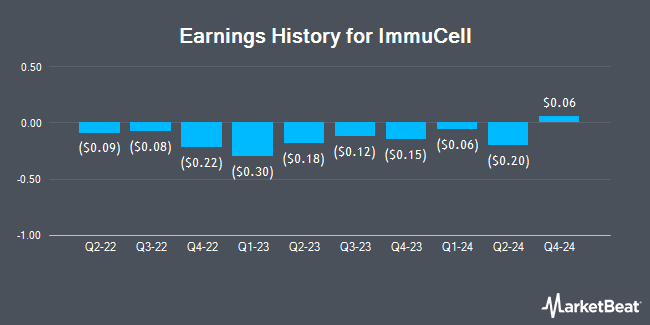 Receive News & Ratings for ImmuCell Co. Daily - Enter your email address below to receive a concise daily summary of the latest news and analysts' ratings for ImmuCell Co. and related companies with Analyst Ratings Network's FREE daily email newsletter.