HSBC Lowers William Hill (WMH) Price Target to GBX 290
William Hill (LON:WMH) had its price target trimmed by HSBC from GBX 325 ($4.19) to GBX 290 ($3.74) in a research report released on Friday. The brokerage currently has a hold rating on the gambling company's stock.
WMH has been the topic of several other research reports. Shore Capital reaffirmed a hold rating on shares of William Hill in a research report on Monday, June 25th. Credit Suisse Group reaffirmed an outperform rating on shares of William Hill in a research report on Thursday, August 23rd. Berenberg Bank upped their price objective on William Hill from GBX 290 ($3.74) to GBX 310 ($4.00) and gave the company a hold rating in a research report on Tuesday, June 5th. Peel Hunt raised William Hill to a hold rating and set a GBX 305 ($3.93) price objective on the stock in a research report on Friday, July 27th. Finally, Goldman Sachs Group raised William Hill to a neutral rating and upped their price objective for the company from GBX 265 ($3.42) to GBX 286 ($3.69) in a research report on Tuesday, August 7th. Eight investment analysts have rated the stock with a hold rating and seven have issued a buy rating to the stock. The stock currently has an average rating of Hold and a consensus price target of GBX 320.13 ($4.13).
Shares of William Hill stock opened at GBX 251.10 ($3.24) on Friday. William Hill has a 52 week low of GBX 239.10 ($3.08) and a 52 week high of GBX 345 ($4.45).
William Hill (LON:WMH) last announced its quarterly earnings data on Friday, August 3rd. The gambling company reported GBX 9.10 ($0.12) EPS for the quarter, missing the Thomson Reuters' consensus estimate of GBX 13.50 ($0.17) by GBX (4.40) (($0.06)). William Hill had a net margin of 9.73% and a return on equity of 13.25%.
The company also recently announced a dividend, which will be paid on Wednesday, November 28th. Shareholders of record on Thursday, October 25th will be issued a GBX 4.26 ($0.05) dividend. This represents a dividend yield of 1.57%. The ex-dividend date is Thursday, October 25th.
In other news, insider Ruth Prior bought 38,998 shares of the stock in a transaction on Wednesday, September 5th. The stock was acquired at an average cost of GBX 258 ($3.33) per share, for a total transaction of £100,614.84 ($129,792.11).
About William Hill
William Hill PLC provides sports betting and gaming services in the United Kingdom, Australia, the United States, Italy, Spain, and internationally. It operates through Retail, Online, US, Australia, and Other segments. The company operates licensed betting offices that offer various betting and gaming services, including horseracing, greyhound racing, football betting, virtual racing, numbers betting, and other services.
Featured Story: Calculate Your Return on Investment (ROI)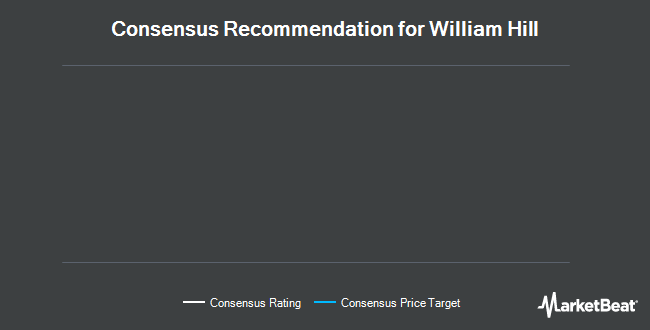 Receive News & Ratings for William Hill Daily - Enter your email address below to receive a concise daily summary of the latest news and analysts' ratings for William Hill and related companies with MarketBeat.com's FREE daily email newsletter.