HIGHLANDS BANCO/SH (HSBK) Lowered to "Sell" at ValuEngine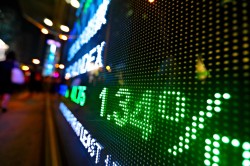 ValuEngine cut shares of HIGHLANDS BANCO/SH (OTCMKTS:HSBK) from a hold rating to a sell rating in a research note published on Wednesday morning.
Shares of HSBK opened at $15.70 on Wednesday. HIGHLANDS BANCO/SH has a twelve month low of $12.50 and a twelve month high of $19.00. The company has a market capitalization of $43.81 million, a price-to-earnings ratio of 13.08 and a beta of 1.20.
HIGHLANDS BANCO/SH (OTCMKTS:HSBK) last issued its quarterly earnings data on Friday, October 19th. The company reported $0.35 earnings per share (EPS) for the quarter. The company had revenue of $4.48 million for the quarter.
The company also recently announced a quarterly dividend, which was paid on Monday, December 3rd. Shareholders of record on Thursday, November 15th were given a $0.02 dividend. This represents a $0.08 annualized dividend and a yield of 0.51%. The ex-dividend date of this dividend was Wednesday, November 14th.
HIGHLANDS BANCO/SH Company Profile
Highlands Bancorp, Inc operates as the holding company for Highlands State Bank that provides personal and business banking services. The company offers various deposit products, including checking, savings, interest and noninterest bearing, and money market accounts, as well as time deposits and certificates of deposit.
Read More: Debt-To-Equity Ratio
To view ValuEngine's full report, visit ValuEngine's official website.
Receive News & Ratings for HIGHLANDS BANCO/SH Daily - Enter your email address below to receive a concise daily summary of the latest news and analysts' ratings for HIGHLANDS BANCO/SH and related companies with MarketBeat.com's FREE daily email newsletter.