Hexcel (HXL) Updates FY18 Earnings Guidance
Hexcel (NYSE:HXL) issued an update on its FY18 earnings guidance on Monday morning. The company provided earnings per share guidance of $2.96-$3.10 for the period, compared to the Thomson Reuters consensus earnings per share estimate of $3.03. The company issued revenue guidance of $2.10-$2.20 billion, compared to the consensus revenue estimate of $2.15 billion.
Shares of HXL stock traded down $0.25 on Monday, reaching $65.05. The stock had a trading volume of 225,329 shares, compared to its average volume of 514,956. The company has a market cap of $5,866.72, a P/E ratio of 24.27, a price-to-earnings-growth ratio of 2.56 and a beta of 1.17. Hexcel has a 1 year low of $49.20 and a 1 year high of $69.52. The company has a debt-to-equity ratio of 0.54, a current ratio of 2.51 and a quick ratio of 1.31.
Hexcel (NYSE:HXL) last released its quarterly earnings results on Wednesday, January 24th. The aerospace company reported $0.70 earnings per share (EPS) for the quarter, hitting the Zacks' consensus estimate of $0.70. The firm had revenue of $511.70 million for the quarter, compared to the consensus estimate of $506.70 million. Hexcel had a return on equity of 17.86% and a net margin of 14.39%. The company's revenue for the quarter was up 5.8% on a year-over-year basis. During the same period last year, the business posted $0.64 EPS. analysts expect that Hexcel will post 3.02 earnings per share for the current year.
A number of equities analysts have recently issued reports on HXL shares.
Zacks Investment Research
upgraded Hexcel from a sell rating to a hold rating in a research note on Tuesday, January 30th. Canaccord Genuity raised their price target on Hexcel from $64.00 to $70.00 and gave the stock a hold rating in a research note on Friday, January 26th. Barclays assumed coverage on Hexcel in a research report on Thursday, March 29th. They set an equal weight rating and a $69.00 target price on the stock. Stephens lifted their target price on Hexcel from $74.00 to $82.00 and gave the company an overweight rating in a research report on Friday, January 26th. Finally, BMO Capital Markets assumed coverage on Hexcel in a research report on Tuesday, March 27th. They set a market perform rating and a $74.00 target price on the stock. Two analysts have rated the stock with a sell rating, seven have assigned a hold rating and six have assigned a buy rating to the company. The stock has a consensus rating of Hold and a consensus target price of $66.75.
An institutional investor recently raised its position in Hexcel stock. The Manufacturers Life Insurance Company raised its holdings in shares of Hexcel (NYSE:HXL) by 6.9% during the second quarter, according to the company in its most recent disclosure with the Securities & Exchange Commission. The firm owned 3,098 shares of the aerospace company's stock after acquiring an additional 200 shares during the quarter. The Manufacturers Life Insurance Company's holdings in Hexcel were worth $163,000 as of its most recent SEC filing. 95.65% of the stock is owned by institutional investors.
TRADEMARK VIOLATION WARNING: "Hexcel (HXL) Updates FY18 Earnings Guidance" was reported by Watch List News and is owned by of Watch List News. If you are reading this news story on another publication, it was copied illegally and republished in violation of international copyright law. The original version of this news story can be viewed at https://www.watchlistnews.com/hexcel-hxl-updates-fy18-earnings-guidance/2050695.html.
About Hexcel
Hexcel Corporation, together with its subsidiaries, develops, manufactures, and markets structural materials for use in commercial aerospace, space and defense, and industrial markets. The company operates in two segments, Composite Materials and Engineered Products. The Composite Materials segment manufactures and markets carbon fibers, fabrics and specialty reinforcements, prepregs and other fiber-reinforced matrix materials, structural adhesives, honeycombs, molding compounds, tooling materials, polyurethane systems, and laminates that are used in military and commercial aircraft, wind turbine blade, recreational product, and other industrial applications, as well as in cars, boats, and trains.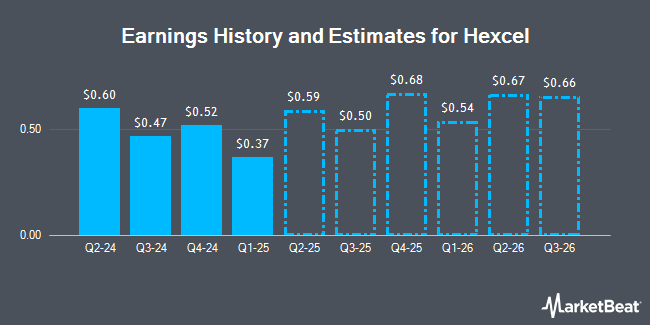 Receive News & Ratings for Hexcel Daily - Enter your email address below to receive a concise daily summary of the latest news and analysts' ratings for Hexcel and related companies with MarketBeat.com's FREE daily email newsletter.