Great-West Lifeco Inc (GWO) Price Target Raised to C$38.00
Great-West Lifeco Inc (TSE:GWO) had its price target boosted by Barclays PLC from C$37.00 to C$38.00 in a research report released on Friday morning.
Separately, CSFB raised their target price on shares of Great-West Lifeco from C$37.00 to C$39.00 in a report on Wednesday, November 1st. One equities research analyst has rated the stock with a sell rating and six have assigned a hold rating to the company's stock. Great-West Lifeco has an average rating of Hold and a consensus target price of C$37.27.
Great-West Lifeco (GWO) opened at C$36.03 on Friday. Great-West Lifeco has a fifty-two week low of C$32.50 and a fifty-two week high of C$37.79.
WARNING: "Great-West Lifeco Inc (GWO) Price Target Raised to C$38.00" was first reported by Watch List News and is the property of of Watch List News. If you are reading this article on another site, it was copied illegally and republished in violation of U.S. and international copyright laws. The correct version of this article can be viewed at https://www.watchlistnews.com/great-west-lifeco-inc-gwo-price-target-raised-to-c38-00/1681794.html.
In other Great-West Lifeco news, insider Lifeco U.S. Holding Great-West acquired 81,387 shares of the business's stock in a transaction that occurred on Saturday, September 30th. The shares were purchased at an average price of C$35.62 per share, with a total value of C$2,899,004.94.
About Great-West Lifeco
Great-West Lifeco Inc (Lifeco) is a financial services holding company. The Company has interests in the life insurance, health insurance, asset management, investment and retirement savings, and reinsurance businesses. It operates through four operating segments: Canada, United States, Europe and Lifeco Corporate.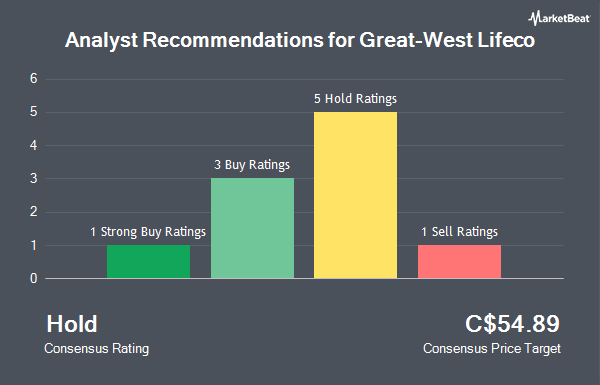 Receive News & Ratings for Great-West Lifeco Inc Daily - Enter your email address below to receive a concise daily summary of the latest news and analysts' ratings for Great-West Lifeco Inc and related companies with Analyst Ratings Network's FREE daily email newsletter.