Gildan Activewear Inc (GIL) Director Sells C$1,152,300.00 in Stock
Gildan Activewear Inc (TSE:GIL) (NYSE:GIL) Director Michael Hoffman sold 30,000 shares of the firm's stock in a transaction on Tuesday, November 14th. The shares were sold at an average price of C$38.41, for a total value of C$1,152,300.00.
Shares of Gildan Activewear Inc (GIL) opened at C$39.06 on Friday. Gildan Activewear Inc has a twelve month low of C$30.97 and a twelve month high of C$42.18.
The company also recently disclosed a quarterly dividend, which will be paid on Monday, December 11th. Investors of record on Thursday, November 16th will be issued a dividend of $0.121 per share. This is an increase from Gildan Activewear's previous quarterly dividend of $0.09. The ex-dividend date of this dividend is Wednesday, November 15th. This represents a $0.48 annualized dividend and a dividend yield of 1.24%. Gildan Activewear's dividend payout ratio (DPR) is 16.75%.
COPYRIGHT VIOLATION NOTICE: "Gildan Activewear Inc (GIL) Director Sells C$1,152,300.00 in Stock" was first posted by Watch List News and is the sole property of of Watch List News. If you are accessing this story on another publication, it was stolen and reposted in violation of United States and international copyright legislation. The correct version of this story can be accessed at https://www.watchlistnews.com/gildan-activewear-inc-gil-director-sells-c1152300-00-in-stock/1711377.html.
A number of equities research analysts have weighed in on the company. National Bank Financial downgraded Gildan Activewear from an "outperform" rating to a "sector perform" rating and raised their target price for the company from C$40.00 to C$41.00 in a report on Friday, August 4th. BMO Capital Markets reduced their target price on Gildan Activewear from C$34.00 to C$30.00 and set a "market perform" rating on the stock in a report on Friday, November 3rd. Finally, TD Securities downgraded Gildan Activewear from a "buy" rating to a "hold" rating and set a C$41.50 target price on the stock. in a report on Friday, August 4th. Seven equities research analysts have rated the stock with a hold rating and one has given a buy rating to the stock. The company currently has a consensus rating of "Hold" and an average target price of C$39.58.
Gildan Activewear Company Profile
Gildan Activewear Inc is a manufacturer and marketer of branded basic family apparel, including T-shirts, fleece, sport shirts, underwear, socks, hosiery and shapewear. The Company operates through two segments: Printwear and Branded Apparel. The Printwear segment designs, manufactures, sources, markets, and distributes undecorated activewear products.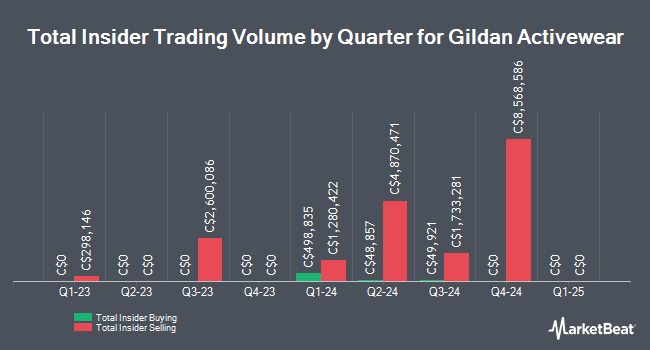 Receive News & Ratings for Gildan Activewear Inc Daily - Enter your email address below to receive a concise daily summary of the latest news and analysts' ratings for Gildan Activewear Inc and related companies with Analyst Ratings Network's FREE daily email newsletter.