Gear Energy Ltd. (GXE) Insider Don Gray Acquires 350,000 Shares
Gear Energy Ltd. (TSE:GXE) insider Don Gray acquired 350,000 shares of Gear Energy stock in a transaction dated Friday, December 15th. The shares were acquired at an average price of C$0.82 per share, with a total value of C$287,000.00.
Shares of Gear Energy Ltd. (GXE) traded down C$0.01 during midday trading on Friday, hitting C$0.79. The stock had a trading volume of 497,209 shares, compared to its average volume of 272,427. Gear Energy Ltd. has a fifty-two week low of C$0.60 and a fifty-two week high of C$1.25.
COPYRIGHT VIOLATION WARNING: "Gear Energy Ltd. (GXE) Insider Don Gray Acquires 350,000 Shares" was originally reported by Watch List News and is owned by of Watch List News. If you are accessing this article on another website, it was illegally stolen and republished in violation of U.S. and international copyright law. The legal version of this article can be viewed at https://www.watchlistnews.com/gear-energy-ltd-gxe-insider-don-gray-acquires-350000-shares/1766705.html.
Gear Energy Company Profile
Gear Energy Ltd. is an exploration and production company with heavy and light oil production in Central Alberta and West Central Saskatchewan. The Company is engaged in the business of acquiring, developing and holding interests in petroleum and natural gas properties and assets. The Company's properties include Paradise Hill, Wildmere Cummings, Wilson Creek and Hoosier.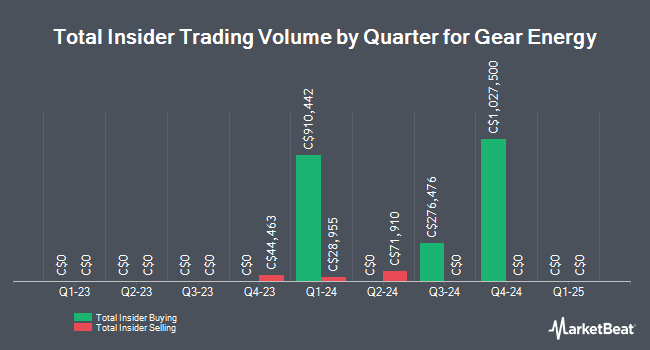 Receive News & Ratings for Gear Energy Daily - Enter your email address below to receive a concise daily summary of the latest news and analysts' ratings for Gear Energy and related companies with MarketBeat.com's FREE daily email newsletter.