FY2017 Earnings Estimate for K Bro Linen Inc (KBL) Issued By Cormark
K Bro Linen Inc (TSE:KBL) – Analysts at Cormark lifted their FY2017 earnings per share estimates for shares of K Bro Linen in a research report issued on Thursday. Cormark analyst G. Fairweather now anticipates that the company will post earnings per share of $1.15 for the year, up from their previous forecast of $1.10. Cormark also issued estimates for K Bro Linen's FY2018 earnings at $1.20 EPS and FY2019 earnings at $1.71 EPS.
A number of other brokerages also recently weighed in on KBL. National Bank Financial reissued an "outperform" rating and set a C$46.00 target price on shares of K Bro Linen in a research note on Wednesday, December 13th. TD Securities lifted their target price on shares of K Bro Linen from C$45.00 to C$48.00 and gave the stock a "buy" rating in a research note on Friday.
K Bro Linen (
TSE KBL
) opened at C$42.72 on Monday. K Bro Linen has a 52 week low of C$37.39 and a 52 week high of C$45.00.
The company also recently announced a monthly dividend, which was paid on Friday, December 15th. Investors of record on Thursday, November 30th were paid a dividend of $0.10 per share. This represents a $1.20 dividend on an annualized basis and a yield of 2.81%. The ex-dividend date was Wednesday, November 29th. K Bro Linen's dividend payout ratio is presently 115.38%.
In other K Bro Linen news, insider Ryo Utahara sold 650 shares of K Bro Linen stock in a transaction on Friday, December 15th. The shares were sold at an average price of C$42.50, for a total value of C$27,625.00.
COPYRIGHT VIOLATION NOTICE: "FY2017 Earnings Estimate for K Bro Linen Inc (KBL) Issued By Cormark" was published by Watch List News and is the property of of Watch List News. If you are reading this story on another site, it was stolen and republished in violation of United States and international copyright and trademark legislation. The legal version of this story can be viewed at https://www.watchlistnews.com/fy2017-earnings-estimate-for-k-bro-linen-inc-kbl-issued-by-cormark/1770382.html.
About K Bro Linen
K Bro Linen Inc is a Canada-based owner and operator of laundry and linen processing facilities. The Company provides laundry and linen services to healthcare institutions, hotels and other commercial accounts. The Company's services include the processing, management and distribution of general and operating room linens (K Bro Operating Room (KOR) Services), including sheets, blankets, towels, tablecloths, surgical gowns and drapes, and other types of linen.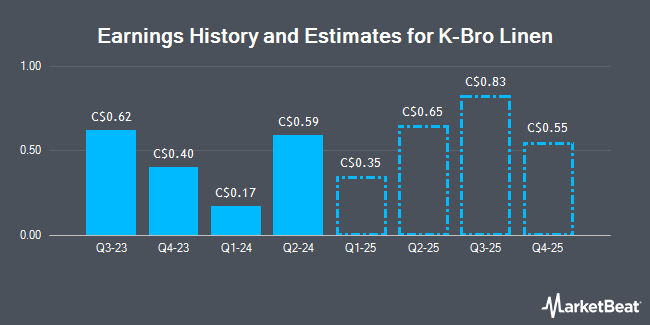 Receive News & Ratings for K Bro Linen Daily - Enter your email address below to receive a concise daily summary of the latest news and analysts' ratings for K Bro Linen and related companies with MarketBeat.com's FREE daily email newsletter.