Foxtons Group PLC (FOXT) Receives GBX 69.20 Average Price Target from Brokerages

Shares of Foxtons Group PLC (LON:FOXT) have earned a consensus rating of "Hold" from the six ratings firms that are covering the stock, MarketBeat reports. Three equities research analysts have rated the stock with a sell recommendation, two have issued a hold recommendation and one has assigned a buy recommendation to the company. The average 12 month price target among brokers that have issued a report on the stock in the last year is GBX 69.20 ($0.90).
Separately, Peel Hunt lowered their target price on shares of Foxtons Group from GBX 60 ($0.78) to GBX 40 ($0.52) and set a "sell" rating on the stock in a report on Monday, July 30th.
Shares of LON:FOXT traded down GBX 0.50 ($0.01) during mid-day trading on Thursday, reaching GBX 54.80 ($0.71). The company had a trading volume of 72,412 shares, compared to its average volume of 405,460. Foxtons Group has a one year low of GBX 63.50 ($0.83) and a one year high of GBX 115.13 ($1.50).
Foxtons Group (LON:FOXT) last posted its quarterly earnings results on Monday, July 30th. The company reported GBX (1.10) (($0.01)) EPS for the quarter. Foxtons Group had a return on equity of 4.82% and a net margin of 5.71%.
About Foxtons Group
Foxtons Group plc, an estate agency, provides residential property sales and lettings services in the United Kingdom. It operates through three segments: Sales, Lettings, and Mortgage Broking. The company is involved in short letting and corporate letting; and the provision of property management services.
Featured Story: Diversification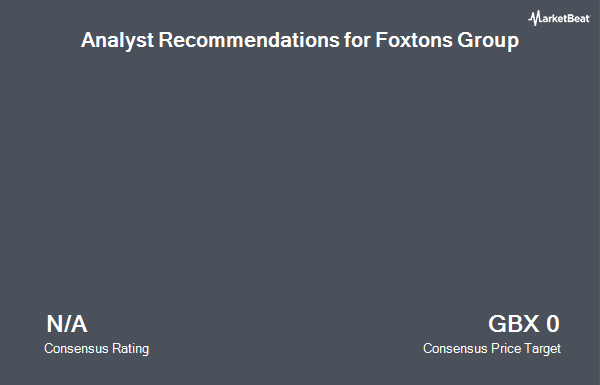 Receive News & Ratings for Foxtons Group Daily - Enter your email address below to receive a concise daily summary of the latest news and analysts' ratings for Foxtons Group and related companies with MarketBeat.com's FREE daily email newsletter.