Fortuna Silver Mines Inc (FVI) PT Lowered to C$7.75
Fortuna Silver Mines Inc (TSE:FVI) (NYSE:FSM) had its target price cut by National Bank Financial from C$8.00 to C$7.75 in a report released on Wednesday. The brokerage presently has an "outperform" rating on the stock. National Bank Financial's price target would indicate a potential upside of 39.39% from the stock's current price.
Several other equities research analysts also recently issued reports on the company. BMO Capital Markets reiterated an "outperform" rating and issued a C$9.00 price objective on shares of Fortuna Silver Mines in a report on Thursday, May 25th. Raymond James Financial, Inc. reiterated a "strong-buy" rating and issued a C$10.00 price objective on shares of Fortuna Silver Mines in a report on Tuesday, April 18th. Finally, CIBC cut their price objective on Fortuna Silver Mines from C$9.00 to C$8.00 in a report on Wednesday. One equities research analyst has rated the stock with a hold rating, three have given a buy rating and one has issued a strong buy rating to the company's stock. The stock currently has a consensus rating of "Buy" and an average price target of C$8.88.
Shares of Fortuna Silver Mines (TSE:FVI) traded up 3.78% during trading on Wednesday, reaching $5.77. The company's stock had a trading volume of 281,920 shares. Fortuna Silver Mines has a 1-year low of $5.44 and a 1-year high of $12.19. The stock has a 50 day moving average of $6.02 and a 200-day moving average of $6.70. The company has a market capitalization of $918.72 million and a PE ratio of 30.05.
COPYRIGHT VIOLATION NOTICE: This report was originally posted by Watch List News and is owned by of Watch List News. If you are viewing this report on another publication, it was illegally copied and republished in violation of U.S. and international trademark and copyright laws. The original version of this report can be accessed at https://www.watchlistnews.com/fortuna-silver-mines-inc-fvi-pt-lowered-to-c7-75/1495857.html.
About Fortuna Silver Mines
Fortuna Silver Mines Inc engages in the exploration, extraction, and processing of mineral properties in Latin America. The company explores for silver, gold, lead, and zinc deposits. It holds interests in the Caylloma mine located in southern Peru; and the San Jose mine located in the State of Oaxaca in southern Mexico, as well as develops the Lindero gold project situated in northwestern Argentina.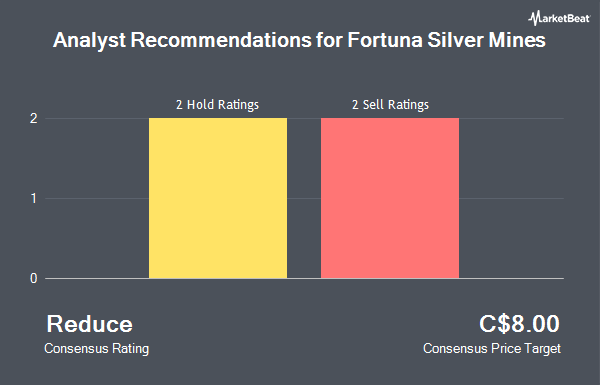 Receive News & Ratings for Fortuna Silver Mines Inc Daily - Enter your email address below to receive a concise daily summary of the latest news and analysts' ratings for Fortuna Silver Mines Inc and related companies with Analyst Ratings Network's FREE daily email newsletter.