Family Management Corp Has $527,000 Holdings in Inseego Corp (INSG)
Family Management Corp boosted its position in shares of Inseego Corp (NASDAQ:INSG) by 525.0% during the second quarter, according to its most recent disclosure with the Securities & Exchange Commission. The institutional investor owned 262,502 shares of the technology company's stock after buying an additional 220,502 shares during the period. Family Management Corp owned approximately 0.36% of Inseego worth $527,000 at the end of the most recent quarter.
Separately, Renaissance Technologies LLC boosted its stake in shares of Inseego by 21.6% in the 2nd quarter. Renaissance Technologies LLC now owns 451,900 shares of the technology company's stock valued at $908,000 after purchasing an additional 80,400 shares in the last quarter. 6.41% of the stock is currently owned by institutional investors and hedge funds.
NASDAQ:INSG opened at $4.22 on Friday. The company has a debt-to-equity ratio of -2.07, a quick ratio of 0.72 and a current ratio of 0.91. Inseego Corp has a one year low of $1.23 and a one year high of $4.43.
Inseego (NASDAQ:INSG) last posted its earnings results on Tuesday, August 7th. The technology company reported ($0.02) EPS for the quarter, hitting the consensus estimate of ($0.02). The business had revenue of $49.06 million for the quarter, compared to analyst estimates of $46.44 million. research analysts expect that Inseego Corp will post -0.38 earnings per share for the current year.
INSG has been the topic of a number of research analyst reports. Canaccord Genuity upgraded shares of Inseego from a "hold" rating to a "buy" rating and raised their price target for the company from $2.25 to $4.50 in a research note on Thursday, September 6th. Northland Securities raised their price target on shares of Inseego from $3.00 to $4.50 and gave the company an "outperform" rating in a research note on Tuesday, September 11th. BidaskClub upgraded shares of Inseego from a "buy" rating to a "strong-buy" rating in a research note on Friday. Finally, ValuEngine upgraded shares of Inseego from a "hold" rating to a "buy" rating in a research note on Thursday, August 9th. One analyst has rated the stock with a hold rating, three have issued a buy rating and one has given a strong buy rating to the company's stock. Inseego currently has a consensus rating of "Buy" and a consensus target price of $3.83.
About Inseego
Inseego Corp., together with its subsidiaries, provides software-as-a-service (SaaS), Internet of Things (IoT), and mobile solutions worldwide. The company sells SaaS, software, and service solutions across multiple IoT vertical markets, including fleet management and vehicle telematics, aviation, usage-based insurance, stolen vehicle recovery, asset tracking and monitoring, business connectivity, and subscription management.
See Also: Index Funds
Want to see what other hedge funds are holding INSG? Visit HoldingsChannel.com to get the latest 13F filings and insider trades for Inseego Corp (NASDAQ:INSG).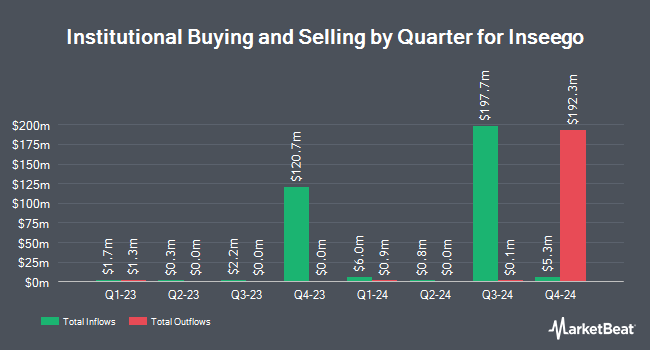 Receive News & Ratings for Inseego Daily - Enter your email address below to receive a concise daily summary of the latest news and analysts' ratings for Inseego and related companies with MarketBeat.com's FREE daily email newsletter.