Esure Group (ESUR) Stock Rating Upgraded by Peel Hunt
Esure Group (LON:ESUR) was upgraded by Peel Hunt to an "add" rating in a report issued on Thursday. The brokerage currently has a GBX 295 ($3.97) price objective on the stock, up from their previous price objective of GBX 285 ($3.84). Peel Hunt's price objective indicates a potential upside of 14.50% from the company's previous close.
ESUR has been the topic of several other reports. Deutsche Bank reissued a "buy" rating and issued a GBX 315 ($4.24) price objective on shares of Esure Group in a research report on Friday, September 8th. HSBC increased their price objective on shares of Esure Group from GBX 320 ($4.31) to GBX 325 ($4.37) and gave the company a "buy" rating in a research report on Thursday, November 23rd. J P Morgan Chase & Co lowered shares of Esure Group to an "underweight" rating and lowered their price target for the stock from GBX 300 ($4.04) to GBX 290 ($3.90) in a research report on Tuesday, October 24th. Shore Capital reaffirmed a "sell" rating on shares of Esure Group in a research report on Wednesday, November 8th. Finally, Credit Suisse Group lowered their price target on shares of Esure Group from GBX 315 ($4.24) to GBX 290 ($3.90) and set a "neutral" rating on the stock in a research report on Tuesday, November 14th. Four investment analysts have rated the stock with a sell rating, seven have given a hold rating and three have issued a buy rating to the stock. The company has a consensus rating of "Hold" and a consensus price target of GBX 276 ($3.71).
Esure Group (LON:ESUR) opened at GBX 257.64 ($3.47) on Thursday. Esure Group has a 1 year low of GBX 190 ($2.56) and a 1 year high of GBX 308.80 ($4.16).
COPYRIGHT VIOLATION NOTICE: This news story was first reported by Watch List News and is owned by of Watch List News. If you are reading this news story on another site, it was copied illegally and reposted in violation of US and international trademark and copyright law. The correct version of this news story can be viewed at https://www.watchlistnews.com/esure-group-esur-stock-rating-upgraded-by-peel-hunt/1748538.html.
About Esure Group
esure Group plc is a holding company, which provides motor and home insurance products and services through its esure and Sheilas' Wheels brands. The Company's segments include motor underwriting, home underwriting, non-underwritten additional services and investments. The Motor underwriting segment includes the revenues and expenses attributable to its motor insurance underwriting activities inclusive of additional insurance products underwritten by it.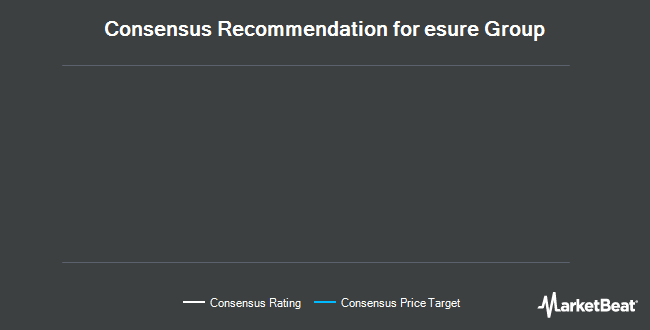 Receive News & Ratings for Esure Group PLC Daily - Enter your email address below to receive a concise daily summary of the latest news and analysts' ratings for Esure Group PLC and related companies with Analyst Ratings Network's FREE daily email newsletter.