Eldorado Gold Corp (ELD) Receives C$2.68 Consensus Target Price from Analysts
Shares of Eldorado Gold Corp (TSE:ELD) (NYSE:EGO) have been assigned an average rating of "Hold" from the eight analysts that are currently covering the firm, MarketBeat.com reports. One equities research analyst has rated the stock with a sell recommendation, four have issued a hold recommendation and one has given a buy recommendation to the company. The average 12 month target price among brokerages that have issued ratings on the stock in the last year is C$2.68.
ELD has been the topic of several analyst reports. Royal Bank of Canada cut Eldorado Gold from a "sector perform" rating to an "underperform" rating and set a C$2.35 price objective on the stock. in a report on Wednesday, October 25th. Desjardins restated a "hold" rating on shares of Eldorado Gold in a report on Monday, December 11th. Scotiabank restated a "sector perform" rating and set a C$2.50 price objective on shares of Eldorado Gold in a report on Friday, November 17th. BMO Capital Markets decreased their price objective on Eldorado Gold from C$3.50 to C$2.25 and set a "market perform" rating on the stock in a report on Tuesday, October 24th. Finally, Canaccord Genuity decreased their price objective on Eldorado Gold from C$2.25 to C$2.00 in a report on Monday, October 30th.
Shares of Eldorado Gold (TSE:ELD) traded down C$0.02 during trading hours on Friday, reaching C$1.57. The company's stock had a trading volume of 1,077,615 shares, compared to its average volume of 2,320,994. The firm has a market cap of $1,260.00, a PE ratio of -79.50 and a beta of 0.74. Eldorado Gold has a 52-week low of C$1.39 and a 52-week high of C$5.13.
TRADEMARK VIOLATION WARNING: This piece was first posted by Watch List News and is the property of of Watch List News. If you are accessing this piece on another website, it was copied illegally and reposted in violation of international trademark and copyright laws. The correct version of this piece can be viewed at https://www.watchlistnews.com/eldorado-gold-corp-eld-receives-c2-68-consensus-target-price-from-analysts/1837517.html.
About Eldorado Gold
Eldorado Gold Corp is a Canada-based gold exploration, development and mining company. The Company's geographical segments include Turkey, Brazil, Greece, Romania and Other. The Turkey segment includes the Kisladag and the Efemcukuru mines and exploration activities in Turkey. The Brazil segment includes the Vila Nova mine, the Tocantinzinho project and exploration activities in Brazil.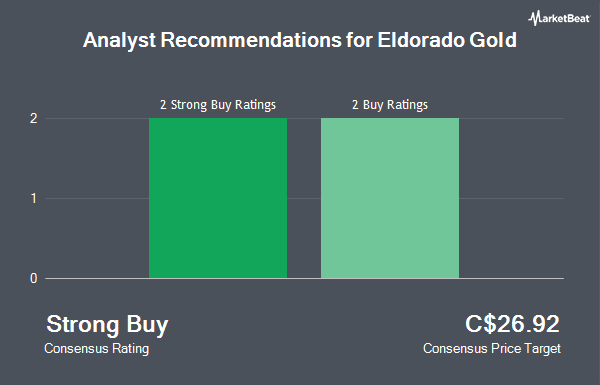 Receive News & Ratings for Eldorado Gold Daily - Enter your email address below to receive a concise daily summary of the latest news and analysts' ratings for Eldorado Gold and related companies with MarketBeat.com's FREE daily email newsletter.