Eaton Co. PLC to Issue Quarterly Dividend of $0.71 (ETN)
April 23rd, 2019 -
Comments Off

on Eaton Co. PLC to Issue Quarterly Dividend of $0.71 (ETN)
-
Filed Under
- by
Kyle Jackson
Eaton Co. PLC (NYSE:ETN) declared a quarterly dividend on Tuesday, April 23rd, RTT News reports. Investors of record on Friday, May 3rd will be given a dividend of 0.71 per share by the industrial products company on Friday, May 17th. This represents a $2.84 dividend on an annualized basis and a yield of 3.31%.
Eaton has increased its dividend payment by an average of 6.3% per year over the last three years and has raised its dividend every year for the last 9 years. Eaton has a payout ratio of 53.0% indicating that its dividend is sufficiently covered by earnings. Analysts expect Eaton to earn $6.21 per share next year, which means the company should continue to be able to cover its $2.84 annual dividend with an expected future payout ratio of 45.7%.
NYSE:ETN traded up $0.92 during mid-day trading on Tuesday, reaching $85.86. 963,364 shares of the stock were exchanged, compared to its average volume of 2,534,164. The company has a market capitalization of $36.15 billion, a PE ratio of 15.93, a P/E/G ratio of 1.57 and a beta of 1.48. The company has a quick ratio of 0.93, a current ratio of 1.47 and a debt-to-equity ratio of 0.42. Eaton has a 1 year low of $64.46 and a 1 year high of $89.46.
Eaton (NYSE:ETN) last released its quarterly earnings results on Thursday, January 31st. The industrial products company reported $1.46 earnings per share (EPS) for the quarter, topping analysts' consensus estimates of $1.43 by $0.03. Eaton had a return on equity of 14.06% and a net margin of 9.93%. The firm had revenue of $5.46 billion for the quarter, compared to the consensus estimate of $5.42 billion. As a group, sell-side analysts anticipate that Eaton will post 5.86 EPS for the current fiscal year.
In other news, insider Heath B. Monesmith sold 7,167 shares of the company's stock in a transaction dated Monday, March 4th. The shares were sold at an average price of $81.25, for a total value of $582,318.75. Following the sale, the insider now directly owns 26,344 shares of the company's stock, valued at approximately $2,140,450. The transaction was disclosed in a legal filing with the Securities & Exchange Commission, which can be accessed through this link. Also, insider Richard H. Fearon sold 1,335 shares of the company's stock in a transaction dated Wednesday, February 27th. The stock was sold at an average price of $80.19, for a total transaction of $107,053.65. The disclosure for this sale can be found here. Insiders sold 73,214 shares of company stock valued at $5,709,455 over the last 90 days. Corporate insiders own 0.70% of the company's stock.
ETN has been the topic of several analyst reports. Vertical Research upgraded Eaton from a "hold" rating to a "buy" rating in a research note on Monday, March 4th. Robert W. Baird set a $89.00 price objective on shares of Eaton and gave the stock a "buy" rating in a research report on Saturday, February 2nd. Wells Fargo & Co increased their price objective on shares of Eaton from $85.00 to $90.00 and gave the stock an "outperform" rating in a research report on Monday, March 4th. They noted that the move was a valuation call. Wolfe Research cut shares of Eaton from an "outperform" rating to a "market perform" rating in a research report on Tuesday, January 8th. Finally, Barclays decreased their price objective on shares of Eaton from $75.00 to $73.00 and set an "underweight" rating for the company in a research report on Monday, January 7th. Three investment analysts have rated the stock with a sell rating, five have assigned a hold rating and twelve have assigned a buy rating to the stock. The stock has a consensus rating of "Hold" and a consensus price target of $86.80.
ILLEGAL ACTIVITY NOTICE: "Eaton Co. PLC to Issue Quarterly Dividend of $0.71 (ETN)" was originally reported by Watch List News and is the property of of Watch List News. If you are viewing this news story on another site, it was illegally copied and republished in violation of international copyright law. The legal version of this news story can be viewed at https://www.watchlistnews.com/eaton-co-plc-to-issue-quarterly-dividend-of-0-71-etn/2982429.html.
Eaton Company Profile
Eaton Corporation plc operates as a power management company worldwide. Its Electrical Products segment offers electrical and industrial components, residential products, single phase power quality products, emergency lighting and fire detection products, wiring devices, structural support systems, and circuit protection and lighting products.
Featured Story: How to invest in blue-chip stocks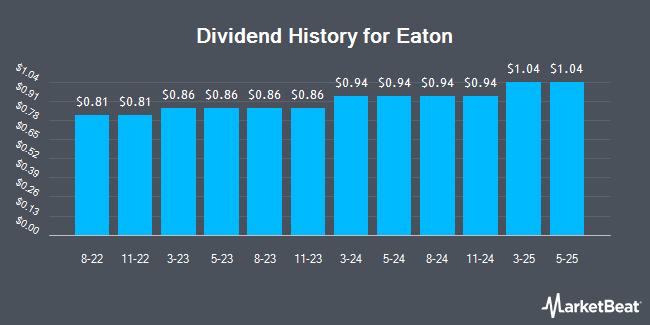 Receive News & Ratings for Eaton Daily - Enter your email address below to receive a concise daily summary of the latest news and analysts' ratings for Eaton and related companies with MarketBeat.com's FREE daily email newsletter.