Eastern Co (EML) Declares $0.11 Quarterly Dividend
Eastern Co (NASDAQ:EML) announced a quarterly dividend on Thursday, February 8th, Zacks reports. Investors of record on Thursday, March 1st will be given a dividend of 0.11 per share by the industrial products company on Thursday, March 15th. This represents a $0.44 dividend on an annualized basis and a dividend yield of 1.79%. The ex-dividend date of this dividend is Wednesday, February 28th.
Eastern (NASDAQ EML) traded up $0.10 during trading hours on Friday, hitting $24.60. 9,604 shares of the company were exchanged, compared to its average volume of 7,586. The company has a debt-to-equity ratio of 0.33, a current ratio of 3.16 and a quick ratio of 1.73. The company has a market cap of $155.91, a PE ratio of 19.84 and a beta of 0.35. Eastern has a 52 week low of $18.85 and a 52 week high of $31.50.
Eastern (NASDAQ:EML) last posted its quarterly earnings results on Monday, November 6th. The industrial products company reported $0.36 EPS for the quarter. The company had revenue of $56.01 million for the quarter. Eastern had a net margin of 4.27% and a return on equity of 11.19%.
In related news, Director Frederick D. Disanto purchased 1,500 shares of the stock in a transaction that occurred on Wednesday, November 15th. The shares were bought at an average price of $26.41 per share, with a total value of $39,615.00. Following the acquisition, the director now owns 8,661 shares of the company's stock, valued at approximately $228,737.01. The purchase was disclosed in a legal filing with the Securities & Exchange Commission, which is available at
this link
. Insiders own 13.75% of the company's stock.
A number of hedge funds have recently modified their holdings of the business. California State Teachers Retirement System bought a new stake in Eastern during the 2nd quarter valued at $297,000. The Manufacturers Life Insurance Company bought a new stake in Eastern during the 2nd quarter valued at $159,000. Finally, State Street Corp bought a new stake in Eastern during the 2nd quarter valued at $1,688,000. 66.55% of the stock is currently owned by institutional investors and hedge funds.
ILLEGAL ACTIVITY WARNING: This piece was reported by Watch List News and is owned by of Watch List News. If you are reading this piece on another publication, it was stolen and republished in violation of US & international trademark & copyright laws. The correct version of this piece can be viewed at https://www.watchlistnews.com/eastern-co-eml-declares-0-11-quarterly-dividend/1855902.html.
About Eastern
The Eastern Company manufactures and sells industrial hardware, security products and metal products from over six United States operations and seven foreign subsidiaries. The Company maintains over 13 physical locations. It operates through three segments: Industrial Hardware, Security Products and Metal Products.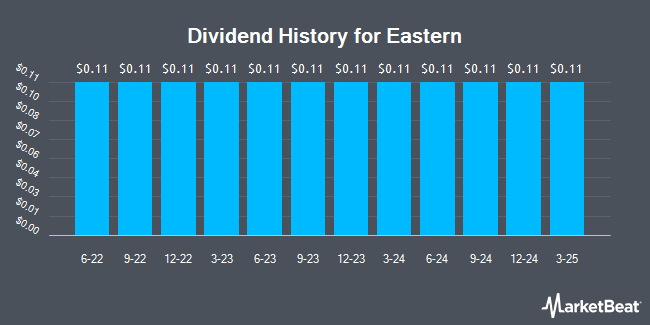 Receive News & Ratings for Eastern Daily - Enter your email address below to receive a concise daily summary of the latest news and analysts' ratings for Eastern and related companies with MarketBeat.com's FREE daily email newsletter.