Donaldson Company, Inc. (DCI) Declares $0.18 Quarterly Dividend
Donaldson Company, Inc. (NYSE:DCI) announced a quarterly dividend on Friday, January 26th, RTT News reports. Shareholders of record on Wednesday, February 14th will be given a dividend of 0.18 per share by the industrial products company on Tuesday, March 6th. This represents a $0.72 annualized dividend and a yield of 1.56%. The ex-dividend date is Tuesday, February 13th.
Donaldson has increased its dividend by an average of 3.8% per year over the last three years and has increased its dividend annually for the last 33 consecutive years. Donaldson has a payout ratio of 36.2% meaning its dividend is sufficiently covered by earnings. Equities research analysts expect Donaldson to earn $2.25 per share next year, which means the company should continue to be able to cover its $0.72 annual dividend with an expected future payout ratio of 32.0%.
Shares of Donaldson (NYSE DCI) opened at $46.22 on Monday. The company has a quick ratio of 2.13, a current ratio of 2.90 and a debt-to-equity ratio of 0.72. Donaldson has a 1-year low of $41.71 and a 1-year high of $52.20. The company has a market capitalization of $6,004.33, a price-to-earnings ratio of 26.11, a price-to-earnings-growth ratio of 2.09 and a beta of 1.10.
Donaldson (NYSE:DCI) last released its earnings results on Thursday, November 30th. The industrial products company reported $0.46 EPS for the quarter, topping the Thomson Reuters' consensus estimate of $0.42 by $0.04. Donaldson had a return on equity of 28.49% and a net margin of 9.57%. The business had revenue of $644.80 million for the quarter, compared to the consensus estimate of $602.02 million. During the same period in the previous year, the company posted ($0.05) earnings per share. The company's revenue for the quarter was up 16.6% compared to the same quarter last year. sell-side analysts anticipate that Donaldson will post 2 EPS for the current fiscal year.
Several equities research analysts have commented on DCI shares. Zacks Investment Research downgraded Donaldson from a "hold" rating to a "sell" rating in a report on Wednesday, November 8th. Oppenheimer reissued a "hold" rating on shares of Donaldson in a report on Friday, December 1st. Stifel Nicolaus reissued a "hold" rating and issued a $53.00 target price (up from $50.00) on shares of Donaldson in a report on Tuesday, January 16th. Jefferies Group reissued a "buy" rating and issued a $57.00 target price on shares of Donaldson in a report on Friday, December 1st. Finally, SunTrust Banks restated a "hold" rating and issued a $46.00 price target on shares of Donaldson in a research note on Friday, October 27th. Five investment analysts have rated the stock with a hold rating and two have issued a buy rating to the company's stock. Donaldson has an average rating of "Hold" and a consensus target price of $52.60.
In other news, insider Melissa A. Osland sold 1,453 shares of the business's stock in a transaction on Thursday, December 14th. The stock was sold at an average price of $48.26, for a total value of $70,121.78. Following the completion of the transaction, the insider now owns 4,174 shares in the company, valued at $201,437.24. The transaction was disclosed in a document filed with the Securities & Exchange Commission, which can be accessed through the SEC website. 1.09% of the stock is owned by insiders.
TRADEMARK VIOLATION WARNING: This story was originally reported by Watch List News and is the property of of Watch List News. If you are viewing this story on another domain, it was illegally copied and republished in violation of United States and international copyright & trademark law. The legal version of this story can be accessed at https://www.watchlistnews.com/donaldson-company-inc-dci-declares-0-18-quarterly-dividend/1861054.html.
About Donaldson
Donaldson Company, Inc is a manufacturer of filtration systems and replacement parts. The Company's segments include Engine Products, Industrial Products and Corporate. The Company's products are manufactured at approximately 44 plants around the world and through three joint ventures. The Company offers its products under the Ultra-Web, PowerCore and Donaldson brands.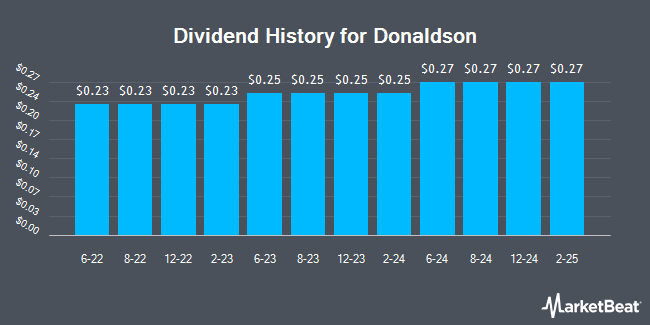 Receive News & Ratings for Donaldson Daily - Enter your email address below to receive a concise daily summary of the latest news and analysts' ratings for Donaldson and related companies with MarketBeat.com's FREE daily email newsletter.