Dassault Aviation (DUAVF) Lifted to "Buy" at Deutsche Bank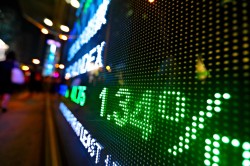 Dassault Aviation (OTCMKTS:DUAVF) was upgraded by research analysts at Deutsche Bank from a "hold" rating to a "buy" rating in a research note issued on Tuesday, The Fly reports.
Shares of DUAVF stock opened at $1,655.00 on Tuesday.
About Dassault Aviation
Dassault Aviation SA engages in the aeronautical business in France and internationally. It offers civil products, which include Falcon aircraft. The company also provides military products, including Rafale, an omnirole fighter aircraft; Mirage 2000 aircraft; and nEUROn and MAlE drones, as well as space products.
Read More: Marijuana Stocks Investing Considerations


Receive News & Ratings for Dassault Aviation Daily - Enter your email address below to receive a concise daily summary of the latest news and analysts' ratings for Dassault Aviation and related companies with MarketBeat.com's FREE daily email newsletter.