Covanta Holding Corp (CVA) Shares Sold by Schroder Investment Management Group
Schroder Investment Management Group lowered its holdings in Covanta Holding Corp (NYSE:CVA) by 25.7% in the third quarter, according to its most recent Form 13F filing with the Securities & Exchange Commission. The institutional investor owned 265,312 shares of the energy company's stock after selling 91,677 shares during the period. Schroder Investment Management Group's holdings in Covanta were worth $4,311,000 as of its most recent SEC filing.
Several other institutional investors and hedge funds have also added to or reduced their stakes in CVA. Janney Montgomery Scott LLC purchased a new stake in shares of Covanta in the third quarter valued at $166,000. Fort Washington Investment Advisors Inc. OH purchased a new stake in shares of Covanta in the third quarter valued at $172,000. Trexquant Investment LP purchased a new stake in shares of Covanta in the second quarter valued at $191,000. Tower Research Capital LLC TRC purchased a new stake in shares of Covanta in the second quarter valued at $206,000. Finally, Paloma Partners Management Co purchased a new stake in shares of Covanta in the second quarter valued at $253,000. Institutional investors own 81.83% of the company's stock.
Shares of NYSE:CVA opened at $15.80 on Friday. The company has a quick ratio of 1.20, a current ratio of 1.20 and a debt-to-equity ratio of 4.87. Covanta Holding Corp has a 1 year low of $14.15 and a 1 year high of $18.05. The firm has a market cap of $2.05 billion, a P/E ratio of -42.70 and a beta of 1.01.
Covanta (NYSE:CVA) last announced its quarterly earnings data on Thursday, October 25th. The energy company reported ($0.04) earnings per share (EPS) for the quarter, missing the Thomson Reuters' consensus estimate of $0.07 by ($0.11). Covanta had a negative return on equity of 1.30% and a net margin of 14.71%. The firm had revenue of $456.00 million for the quarter, compared to analysts' expectations of $449.75 million. Analysts anticipate that Covanta Holding Corp will post -0.01 earnings per share for the current year.
The company also recently disclosed a quarterly dividend, which will be paid on Friday, January 4th. Investors of record on Friday, December 28th will be issued a dividend of $0.25 per share. This represents a $1.00 annualized dividend and a dividend yield of 6.33%. Covanta's dividend payout ratio is -270.27%.
CVA has been the subject of several recent research reports. ValuEngine upgraded Covanta from a "hold" rating to a "buy" rating in a report on Friday, September 7th. Raymond James cut their price objective on Covanta from $19.00 to $17.00 and set a "strong-buy" rating for the company in a report on Monday, October 29th. One investment analyst has rated the stock with a sell rating, three have issued a hold rating, three have given a buy rating and one has issued a strong buy rating to the company. Covanta currently has a consensus rating of "Buy" and a consensus target price of $17.33.
In related news, EVP Matthew Mulcahy sold 13,000 shares of the stock in a transaction on Thursday, November 29th. The stock was sold at an average price of $16.53, for a total transaction of $214,890.00. Following the completion of the sale, the executive vice president now directly owns 88,094 shares in the company, valued at $1,456,193.82. The sale was disclosed in a filing with the SEC, which is available through this hyperlink. 11.60% of the stock is currently owned by company insiders.
COPYRIGHT VIOLATION WARNING: This story was reported by Watch List News and is the property of of Watch List News. If you are accessing this story on another publication, it was stolen and republished in violation of United States and international trademark & copyright laws. The original version of this story can be accessed at https://www.watchlistnews.com/covanta-holding-corp-cva-shares-sold-by-schroder-investment-management-group/2668157.html.
Covanta Profile
Covanta Holding Corporation, through its subsidiaries, provides waste and energy services to municipal entities primarily in the United States and Canada. It owns and operates infrastructure for the conversion of waste to energy, as well as engages in related waste transport and disposal, and other renewable energy production businesses.
See Also: Systematic Risk
Want to see what other hedge funds are holding CVA? Visit HoldingsChannel.com to get the latest 13F filings and insider trades for Covanta Holding Corp (NYSE:CVA).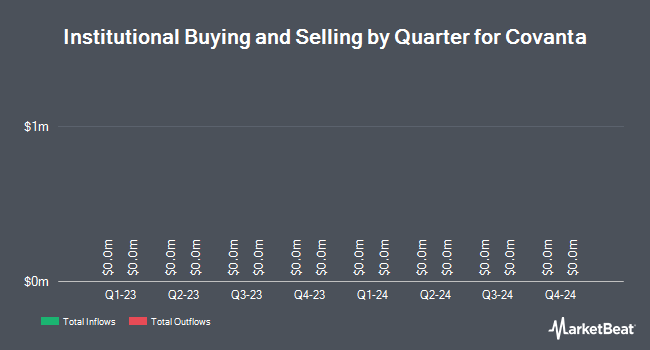 Receive News & Ratings for Covanta Daily - Enter your email address below to receive a concise daily summary of the latest news and analysts' ratings for Covanta and related companies with MarketBeat.com's FREE daily email newsletter.