Cousins Properties (CUZ) Issues FY18 Earnings Guidance
Cousins Properties (NYSE:CUZ) updated its FY18 earnings guidance on Wednesday. The company provided EPS guidance of $0.59-0.63 for the period, compared to the Thomson Reuters consensus EPS estimate of $0.61.
CUZ has been the subject of several research reports. Bank of America raised Cousins Properties from a neutral rating to a buy rating and set a $10.00 price objective for the company in a research report on Monday, December 4th. ValuEngine cut Cousins Properties from a buy rating to a hold rating in a research report on Friday, February 2nd. Finally, Zacks Investment Research raised Cousins Properties from a sell rating to a hold rating in a research report on Wednesday, November 15th. One research analyst has rated the stock with a sell rating, one has assigned a hold rating and five have issued a buy rating to the stock. Cousins Properties presently has a consensus rating of Buy and an average target price of $10.10.
Shares of Cousins Properties (CUZ) traded up $0.03 during mid-day trading on Thursday, reaching $8.53. The company had a trading volume of 749,391 shares, compared to its average volume of 2,986,657. The company has a market capitalization of $3,561.77, a PE ratio of 15.74 and a beta of 0.99. Cousins Properties has a 52-week low of $7.81 and a 52-week high of $9.63. The company has a debt-to-equity ratio of 0.39, a quick ratio of 0.83 and a current ratio of 0.83.
The company also recently announced a quarterly dividend, which was paid on Friday, January 12th. Investors of record on Tuesday, January 2nd were given a $0.06 dividend. The ex-dividend date was Friday, December 29th. This represents a $0.24 annualized dividend and a yield of 2.81%. Cousins Properties's dividend payout ratio (DPR) is currently 44.44%.
In other Cousins Properties news, insider S Taylor Glover sold 74,351 shares of Cousins Properties stock in a transaction on Tuesday, December 12th. The stock was sold at an average price of $9.41, for a total transaction of $699,642.91. Following the completion of the transaction, the insider now directly owns 485,284 shares of the company's stock, valued at $4,566,522.44. The sale was disclosed in a document filed with the SEC, which can be accessed through this hyperlink. 1.14% of the stock is owned by company insiders.
TRADEMARK VIOLATION WARNING: This piece was published by Watch List News and is the sole property of of Watch List News. If you are reading this piece on another publication, it was illegally copied and republished in violation of United States and international trademark & copyright laws. The legal version of this piece can be accessed at https://www.watchlistnews.com/cousins-properties-cuz-issues-fy18-earnings-guidance/1852604.html.
Cousins Properties Company Profile
Cousins Properties Incorporated is a self-administered and self-managed real estate investment trust. The Company's segments include Office, Mixed-Use, Other, Atlanta, Austin, Charlotte, Orlando, Tampa, Phoenix and Other. It develops, acquires, leases, manages and owns primarily Class A office properties and opportunistic mixed-use developments in Sunbelt markets with a focus on Georgia, Texas and North Carolina.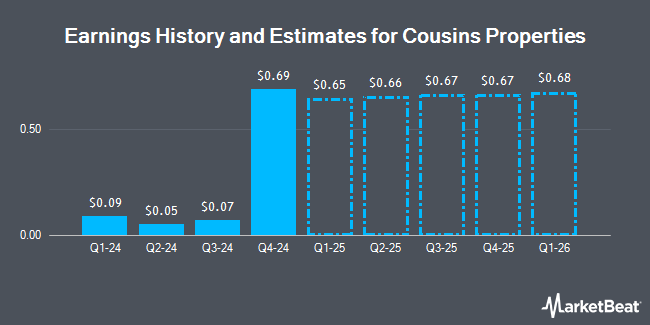 Receive News & Ratings for Cousins Properties Daily - Enter your email address below to receive a concise daily summary of the latest news and analysts' ratings for Cousins Properties and related companies with MarketBeat.com's FREE daily email newsletter.