Coty Inc. (COTY) Given New $22.00 Price Target at BMO Capital Markets
Coty Inc. (NYSE:COTY) had its price target trimmed by BMO Capital Markets from $24.00 to $22.00 in a report published on Friday. The brokerage currently has an outperform rating on the stock.
COTY has been the topic of a number of other research reports. KeyCorp restated a hold rating on shares of Coty in a report on Friday, August 25th. Bank of America Corporation decreased their target price on Coty from $23.00 to $21.00 and set a buy rating for the company in a research report on Wednesday, August 23rd. DA Davidson upped their target price on Coty from $17.50 to $18.00 and gave the stock a neutral rating in a research report on Friday. Jefferies Group LLC reaffirmed a hold rating and set a $18.00 target price (up previously from $17.00) on shares of Coty in a research report on Wednesday, August 23rd. Finally, BidaskClub cut Coty from a hold rating to a sell rating in a research report on Monday, August 14th. Three analysts have rated the stock with a sell rating, ten have issued a hold rating and five have issued a buy rating to the company. Coty currently has an average rating of Hold and a consensus target price of $19.30.
Coty (NYSE COTY) traded down $0.49 during midday trading on Friday, reaching $16.31. The company's stock had a trading volume of 9,268,000 shares, compared to its average volume of 5,592,389. The company has a current ratio of 1.08, a quick ratio of 0.66 and a debt-to-equity ratio of 0.80. The firm has a market cap of $12,577.92, a P/E ratio of 30.55, a PEG ratio of 1.67 and a beta of 0.31. Coty has a 12-month low of $14.24 and a 12-month high of $20.88.
Coty (NYSE:COTY) last posted its quarterly earnings data on Thursday, November 9th. The company reported $0.10 earnings per share (EPS) for the quarter, topping the Thomson Reuters' consensus estimate of $0.07 by $0.03. The firm had revenue of $2.24 billion for the quarter, compared to the consensus estimate of $2.24 billion. Coty had a positive return on equity of 4.26% and a negative net margin of 5.02%. The business's revenue for the quarter was up 107.3% compared to the same quarter last year. During the same quarter in the previous year, the company earned $0.23 EPS. research analysts forecast that Coty will post 0.69 earnings per share for the current fiscal year.
ILLEGAL ACTIVITY NOTICE: "Coty Inc. (COTY) Given New $22.00 Price Target at BMO Capital Markets" was originally published by Watch List News and is the sole property of of Watch List News. If you are reading this piece of content on another domain, it was illegally copied and republished in violation of United States & international trademark and copyright law. The correct version of this piece of content can be read at https://www.watchlistnews.com/coty-inc-coty-given-new-22-00-price-target-at-bmo-capital-markets/1696729.html.
The firm also recently declared a quarterly dividend, which will be paid on Thursday, December 14th. Stockholders of record on Thursday, November 30th will be issued a dividend of $0.125 per share. The ex-dividend date is Wednesday, November 29th. This represents a $0.50 dividend on an annualized basis and a dividend yield of 3.07%. Coty's dividend payout ratio (DPR) is currently -83.33%.
In related news, SVP Ayesha Zafar purchased 21,570 shares of the firm's stock in a transaction dated Wednesday, September 13th. The stock was bought at an average price of $17.11 per share, with a total value of $369,062.70. Following the completion of the purchase, the senior vice president now owns 10,000 shares in the company, valued at approximately $171,100. The acquisition was disclosed in a filing with the SEC, which is accessible through this hyperlink. Also, major shareholder Cosmetics B.V. Jab bought 2,600,000 shares of the business's stock in a transaction that occurred on Monday, August 28th. The shares were acquired at an average price of $16.30 per share, for a total transaction of $42,380,000.00. Following the transaction, the insider now owns 276,408,041 shares in the company, valued at $4,505,451,068.30. The disclosure for this purchase can be found here. In the last ninety days, insiders acquired 2,979,505 shares of company stock valued at $48,661,242. Insiders own 1.00% of the company's stock.
About Coty
Coty Inc is a beauty company. The Company operates through four segments: Fragrances, Color Cosmetics, Skin & Body Care and Brazil Acquisition. Its fragrance products include a range of men's and women's products. Its fragrance brands include Calvin Klein, Marc Jacobs, Davidoff, Chloe, Balenciaga, Beyonce, Bottega Veneta, Miu Miu and Roberto Cavalli.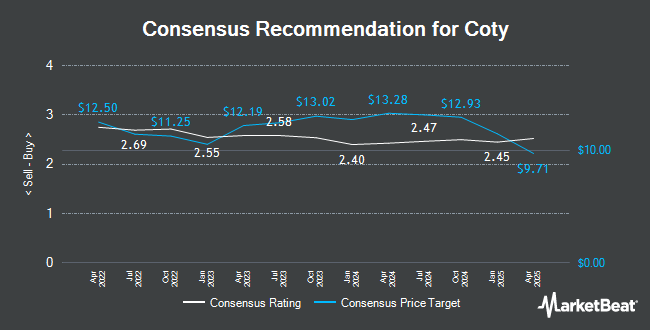 Receive News & Ratings for Coty Inc. Daily - Enter your email address below to receive a concise daily summary of the latest news and analysts' ratings for Coty Inc. and related companies with Analyst Ratings Network's FREE daily email newsletter.